Deprecated
: strpos(): Passing null to parameter #1 ($haystack) of type string is deprecated in
/home/dh_zcawna/maydayglow.com/wp-content/themes/Divi/includes/builder/module/helpers/HoverOptions.php
on line
71
Deprecated
: strpos(): Passing null to parameter #1 ($haystack) of type string is deprecated in
/home/dh_zcawna/maydayglow.com/wp-content/themes/Divi/includes/builder/module/helpers/HoverOptions.php
on line
71
Deprecated
: strpos(): Passing null to parameter #1 ($haystack) of type string is deprecated in
/home/dh_zcawna/maydayglow.com/wp-content/themes/Divi/includes/builder/module/helpers/HoverOptions.php
on line
71
Deprecated
: strpos(): Passing null to parameter #1 ($haystack) of type string is deprecated in
/home/dh_zcawna/maydayglow.com/wp-content/themes/Divi/includes/builder/module/helpers/HoverOptions.php
on line
71
Deprecated
: strpos(): Passing null to parameter #1 ($haystack) of type string is deprecated in
/home/dh_zcawna/maydayglow.com/wp-content/themes/Divi/includes/builder/module/helpers/HoverOptions.php
on line
71
Deprecated
: strpos(): Passing null to parameter #1 ($haystack) of type string is deprecated in
/home/dh_zcawna/maydayglow.com/wp-content/themes/Divi/includes/builder/module/helpers/HoverOptions.php
on line
71
Deprecated
: strpos(): Passing null to parameter #1 ($haystack) of type string is deprecated in
/home/dh_zcawna/maydayglow.com/wp-content/themes/Divi/includes/builder/module/helpers/HoverOptions.php
on line
71
Deprecated
: strpos(): Passing null to parameter #1 ($haystack) of type string is deprecated in
/home/dh_zcawna/maydayglow.com/wp-content/themes/Divi/includes/builder/module/helpers/HoverOptions.php
on line
71
Deprecated
: strpos(): Passing null to parameter #1 ($haystack) of type string is deprecated in
/home/dh_zcawna/maydayglow.com/wp-content/themes/Divi/includes/builder/module/helpers/HoverOptions.php
on line
71
Deprecated
: strpos(): Passing null to parameter #1 ($haystack) of type string is deprecated in
/home/dh_zcawna/maydayglow.com/wp-content/themes/Divi/includes/builder/module/helpers/HoverOptions.php
on line
71
Deprecated
: strpos(): Passing null to parameter #1 ($haystack) of type string is deprecated in
/home/dh_zcawna/maydayglow.com/wp-content/themes/Divi/includes/builder/module/helpers/HoverOptions.php
on line
71
Deprecated
: strpos(): Passing null to parameter #1 ($haystack) of type string is deprecated in
/home/dh_zcawna/maydayglow.com/wp-content/themes/Divi/includes/builder/module/helpers/HoverOptions.php
on line
71
Deprecated
: strpos(): Passing null to parameter #1 ($haystack) of type string is deprecated in
/home/dh_zcawna/maydayglow.com/wp-content/themes/Divi/includes/builder/module/helpers/HoverOptions.php
on line
71
Deprecated
: strpos(): Passing null to parameter #1 ($haystack) of type string is deprecated in
/home/dh_zcawna/maydayglow.com/wp-content/themes/Divi/includes/builder/module/helpers/HoverOptions.php
on line
71
Deprecated
: strpos(): Passing null to parameter #1 ($haystack) of type string is deprecated in
/home/dh_zcawna/maydayglow.com/wp-content/themes/Divi/includes/builder/module/helpers/HoverOptions.php
on line
71
Deprecated
: strpos(): Passing null to parameter #1 ($haystack) of type string is deprecated in
/home/dh_zcawna/maydayglow.com/wp-content/themes/Divi/includes/builder/module/helpers/HoverOptions.php
on line
71
Deprecated
: strpos(): Passing null to parameter #1 ($haystack) of type string is deprecated in
/home/dh_zcawna/maydayglow.com/wp-content/themes/Divi/includes/builder/module/helpers/HoverOptions.php
on line
71
Deprecated
: strpos(): Passing null to parameter #1 ($haystack) of type string is deprecated in
/home/dh_zcawna/maydayglow.com/wp-content/themes/Divi/includes/builder/module/helpers/HoverOptions.php
on line
71
Deprecated
: strpos(): Passing null to parameter #1 ($haystack) of type string is deprecated in
/home/dh_zcawna/maydayglow.com/wp-content/themes/Divi/includes/builder/module/helpers/HoverOptions.php
on line
71
Deprecated
: strpos(): Passing null to parameter #1 ($haystack) of type string is deprecated in
/home/dh_zcawna/maydayglow.com/wp-content/themes/Divi/includes/builder/module/helpers/HoverOptions.php
on line
71
Deprecated
: strpos(): Passing null to parameter #1 ($haystack) of type string is deprecated in
/home/dh_zcawna/maydayglow.com/wp-content/themes/Divi/includes/builder/module/helpers/HoverOptions.php
on line
71
Deprecated
: strpos(): Passing null to parameter #1 ($haystack) of type string is deprecated in
/home/dh_zcawna/maydayglow.com/wp-content/themes/Divi/includes/builder/module/helpers/HoverOptions.php
on line
71
Deprecated
: strpos(): Passing null to parameter #1 ($haystack) of type string is deprecated in
/home/dh_zcawna/maydayglow.com/wp-content/themes/Divi/includes/builder/module/helpers/HoverOptions.php
on line
71
Deprecated
: strpos(): Passing null to parameter #1 ($haystack) of type string is deprecated in
/home/dh_zcawna/maydayglow.com/wp-content/themes/Divi/includes/builder/module/helpers/HoverOptions.php
on line
71
Deprecated
: strpos(): Passing null to parameter #1 ($haystack) of type string is deprecated in
/home/dh_zcawna/maydayglow.com/wp-content/themes/Divi/includes/builder/module/helpers/HoverOptions.php
on line
71
Deprecated
: strpos(): Passing null to parameter #1 ($haystack) of type string is deprecated in
/home/dh_zcawna/maydayglow.com/wp-content/themes/Divi/includes/builder/module/helpers/HoverOptions.php
on line
71
Deprecated
: strpos(): Passing null to parameter #1 ($haystack) of type string is deprecated in
/home/dh_zcawna/maydayglow.com/wp-content/themes/Divi/includes/builder/module/helpers/HoverOptions.php
on line
71
Deprecated
: strpos(): Passing null to parameter #1 ($haystack) of type string is deprecated in
/home/dh_zcawna/maydayglow.com/wp-content/themes/Divi/includes/builder/module/helpers/HoverOptions.php
on line
71
Deprecated
: strpos(): Passing null to parameter #1 ($haystack) of type string is deprecated in
/home/dh_zcawna/maydayglow.com/wp-content/themes/Divi/includes/builder/module/helpers/HoverOptions.php
on line
71
Deprecated
: strpos(): Passing null to parameter #1 ($haystack) of type string is deprecated in
/home/dh_zcawna/maydayglow.com/wp-content/themes/Divi/includes/builder/module/helpers/HoverOptions.php
on line
71
Deprecated
: strpos(): Passing null to parameter #1 ($haystack) of type string is deprecated in
/home/dh_zcawna/maydayglow.com/wp-content/themes/Divi/includes/builder/module/helpers/HoverOptions.php
on line
71
Deprecated
: strpos(): Passing null to parameter #1 ($haystack) of type string is deprecated in
/home/dh_zcawna/maydayglow.com/wp-content/themes/Divi/includes/builder/module/helpers/HoverOptions.php
on line
71
Deprecated
: strpos(): Passing null to parameter #1 ($haystack) of type string is deprecated in
/home/dh_zcawna/maydayglow.com/wp-content/themes/Divi/includes/builder/module/helpers/HoverOptions.php
on line
71
Deprecated
: strpos(): Passing null to parameter #1 ($haystack) of type string is deprecated in
/home/dh_zcawna/maydayglow.com/wp-content/themes/Divi/includes/builder/module/helpers/HoverOptions.php
on line
71
Deprecated
: strpos(): Passing null to parameter #1 ($haystack) of type string is deprecated in
/home/dh_zcawna/maydayglow.com/wp-content/themes/Divi/includes/builder/module/helpers/HoverOptions.php
on line
71
Deprecated
: strpos(): Passing null to parameter #1 ($haystack) of type string is deprecated in
/home/dh_zcawna/maydayglow.com/wp-content/themes/Divi/includes/builder/module/helpers/HoverOptions.php
on line
71
Deprecated
: strpos(): Passing null to parameter #1 ($haystack) of type string is deprecated in
/home/dh_zcawna/maydayglow.com/wp-content/themes/Divi/includes/builder/module/helpers/HoverOptions.php
on line
71
Deprecated
: strpos(): Passing null to parameter #1 ($haystack) of type string is deprecated in
/home/dh_zcawna/maydayglow.com/wp-content/themes/Divi/includes/builder/module/helpers/HoverOptions.php
on line
71
Deprecated
: strpos(): Passing null to parameter #1 ($haystack) of type string is deprecated in
/home/dh_zcawna/maydayglow.com/wp-content/themes/Divi/includes/builder/module/helpers/HoverOptions.php
on line
71
Deprecated
: strpos(): Passing null to parameter #1 ($haystack) of type string is deprecated in
/home/dh_zcawna/maydayglow.com/wp-content/themes/Divi/includes/builder/module/helpers/HoverOptions.php
on line
71
Deprecated
: strpos(): Passing null to parameter #1 ($haystack) of type string is deprecated in
/home/dh_zcawna/maydayglow.com/wp-content/themes/Divi/includes/builder/module/helpers/HoverOptions.php
on line
71
Deprecated
: strpos(): Passing null to parameter #1 ($haystack) of type string is deprecated in
/home/dh_zcawna/maydayglow.com/wp-content/themes/Divi/includes/builder/module/helpers/HoverOptions.php
on line
71
Deprecated
: strpos(): Passing null to parameter #1 ($haystack) of type string is deprecated in
/home/dh_zcawna/maydayglow.com/wp-content/themes/Divi/includes/builder/module/helpers/HoverOptions.php
on line
71
Deprecated
: strpos(): Passing null to parameter #1 ($haystack) of type string is deprecated in
/home/dh_zcawna/maydayglow.com/wp-content/themes/Divi/includes/builder/module/helpers/HoverOptions.php
on line
71
Deprecated
: strpos(): Passing null to parameter #1 ($haystack) of type string is deprecated in
/home/dh_zcawna/maydayglow.com/wp-content/themes/Divi/includes/builder/module/helpers/HoverOptions.php
on line
71
Deprecated
: strpos(): Passing null to parameter #1 ($haystack) of type string is deprecated in
/home/dh_zcawna/maydayglow.com/wp-content/themes/Divi/includes/builder/module/helpers/HoverOptions.php
on line
71
Deprecated
: strpos(): Passing null to parameter #1 ($haystack) of type string is deprecated in
/home/dh_zcawna/maydayglow.com/wp-content/themes/Divi/includes/builder/module/helpers/HoverOptions.php
on line
71
Deprecated
: strpos(): Passing null to parameter #1 ($haystack) of type string is deprecated in
/home/dh_zcawna/maydayglow.com/wp-content/themes/Divi/includes/builder/module/helpers/HoverOptions.php
on line
71
Deprecated
: strpos(): Passing null to parameter #1 ($haystack) of type string is deprecated in
/home/dh_zcawna/maydayglow.com/wp-content/themes/Divi/includes/builder/module/helpers/HoverOptions.php
on line
71
Deprecated
: strpos(): Passing null to parameter #1 ($haystack) of type string is deprecated in
/home/dh_zcawna/maydayglow.com/wp-content/themes/Divi/includes/builder/module/helpers/HoverOptions.php
on line
71
Deprecated
: strpos(): Passing null to parameter #1 ($haystack) of type string is deprecated in
/home/dh_zcawna/maydayglow.com/wp-content/themes/Divi/includes/builder/module/helpers/HoverOptions.php
on line
71
Deprecated
: strpos(): Passing null to parameter #1 ($haystack) of type string is deprecated in
/home/dh_zcawna/maydayglow.com/wp-content/themes/Divi/includes/builder/module/helpers/HoverOptions.php
on line
71
Deprecated
: strpos(): Passing null to parameter #1 ($haystack) of type string is deprecated in
/home/dh_zcawna/maydayglow.com/wp-content/themes/Divi/includes/builder/module/helpers/HoverOptions.php
on line
71
Deprecated
: strpos(): Passing null to parameter #1 ($haystack) of type string is deprecated in
/home/dh_zcawna/maydayglow.com/wp-content/themes/Divi/includes/builder/module/helpers/HoverOptions.php
on line
71
Deprecated
: strpos(): Passing null to parameter #1 ($haystack) of type string is deprecated in
/home/dh_zcawna/maydayglow.com/wp-content/themes/Divi/includes/builder/module/helpers/HoverOptions.php
on line
71
Deprecated
: strpos(): Passing null to parameter #1 ($haystack) of type string is deprecated in
/home/dh_zcawna/maydayglow.com/wp-content/themes/Divi/includes/builder/module/helpers/HoverOptions.php
on line
71
Deprecated
: strpos(): Passing null to parameter #1 ($haystack) of type string is deprecated in
/home/dh_zcawna/maydayglow.com/wp-content/themes/Divi/includes/builder/module/helpers/HoverOptions.php
on line
71
Deprecated
: strpos(): Passing null to parameter #1 ($haystack) of type string is deprecated in
/home/dh_zcawna/maydayglow.com/wp-content/themes/Divi/includes/builder/module/helpers/HoverOptions.php
on line
71
Deprecated
: strpos(): Passing null to parameter #1 ($haystack) of type string is deprecated in
/home/dh_zcawna/maydayglow.com/wp-content/themes/Divi/includes/builder/module/helpers/HoverOptions.php
on line
71
Deprecated
: strpos(): Passing null to parameter #1 ($haystack) of type string is deprecated in
/home/dh_zcawna/maydayglow.com/wp-content/themes/Divi/includes/builder/module/helpers/HoverOptions.php
on line
71
Deprecated
: rtrim(): Passing null to parameter #1 ($string) of type string is deprecated in
/home/dh_zcawna/maydayglow.com/wp-content/themes/Divi/includes/builder/class-et-builder-element.php
on line
15982
Deprecated
: strpos(): Passing null to parameter #1 ($haystack) of type string is deprecated in
/home/dh_zcawna/maydayglow.com/wp-content/themes/Divi/includes/builder/module/helpers/HoverOptions.php
on line
71
Deprecated
: strpos(): Passing null to parameter #1 ($haystack) of type string is deprecated in
/home/dh_zcawna/maydayglow.com/wp-content/themes/Divi/includes/builder/module/helpers/HoverOptions.php
on line
71
Deprecated
: strpos(): Passing null to parameter #1 ($haystack) of type string is deprecated in
/home/dh_zcawna/maydayglow.com/wp-content/themes/Divi/includes/builder/module/helpers/HoverOptions.php
on line
71
Deprecated
: strpos(): Passing null to parameter #1 ($haystack) of type string is deprecated in
/home/dh_zcawna/maydayglow.com/wp-content/themes/Divi/includes/builder/module/helpers/HoverOptions.php
on line
71
Deprecated
: strpos(): Passing null to parameter #1 ($haystack) of type string is deprecated in
/home/dh_zcawna/maydayglow.com/wp-content/themes/Divi/includes/builder/module/helpers/HoverOptions.php
on line
71
Deprecated
: strpos(): Passing null to parameter #1 ($haystack) of type string is deprecated in
/home/dh_zcawna/maydayglow.com/wp-content/themes/Divi/includes/builder/module/helpers/HoverOptions.php
on line
71
Deprecated
: strpos(): Passing null to parameter #1 ($haystack) of type string is deprecated in
/home/dh_zcawna/maydayglow.com/wp-content/themes/Divi/includes/builder/module/helpers/HoverOptions.php
on line
71
Deprecated
: strpos(): Passing null to parameter #1 ($haystack) of type string is deprecated in
/home/dh_zcawna/maydayglow.com/wp-content/themes/Divi/includes/builder/module/helpers/HoverOptions.php
on line
71
Deprecated
: strpos(): Passing null to parameter #1 ($haystack) of type string is deprecated in
/home/dh_zcawna/maydayglow.com/wp-content/themes/Divi/includes/builder/module/helpers/HoverOptions.php
on line
71
Deprecated
: strpos(): Passing null to parameter #1 ($haystack) of type string is deprecated in
/home/dh_zcawna/maydayglow.com/wp-content/themes/Divi/includes/builder/module/helpers/HoverOptions.php
on line
71
Deprecated
: strpos(): Passing null to parameter #1 ($haystack) of type string is deprecated in
/home/dh_zcawna/maydayglow.com/wp-content/themes/Divi/includes/builder/module/helpers/HoverOptions.php
on line
71
Deprecated
: strpos(): Passing null to parameter #1 ($haystack) of type string is deprecated in
/home/dh_zcawna/maydayglow.com/wp-content/themes/Divi/includes/builder/module/helpers/HoverOptions.php
on line
71
Deprecated
: strpos(): Passing null to parameter #1 ($haystack) of type string is deprecated in
/home/dh_zcawna/maydayglow.com/wp-content/themes/Divi/includes/builder/module/helpers/HoverOptions.php
on line
71
Deprecated
: strpos(): Passing null to parameter #1 ($haystack) of type string is deprecated in
/home/dh_zcawna/maydayglow.com/wp-content/themes/Divi/includes/builder/module/helpers/HoverOptions.php
on line
71
Deprecated
: strpos(): Passing null to parameter #1 ($haystack) of type string is deprecated in
/home/dh_zcawna/maydayglow.com/wp-content/themes/Divi/includes/builder/module/helpers/HoverOptions.php
on line
71
Deprecated
: strpos(): Passing null to parameter #1 ($haystack) of type string is deprecated in
/home/dh_zcawna/maydayglow.com/wp-content/themes/Divi/includes/builder/module/helpers/HoverOptions.php
on line
71
Deprecated
: strpos(): Passing null to parameter #1 ($haystack) of type string is deprecated in
/home/dh_zcawna/maydayglow.com/wp-content/themes/Divi/includes/builder/module/helpers/HoverOptions.php
on line
71
Deprecated
: strpos(): Passing null to parameter #1 ($haystack) of type string is deprecated in
/home/dh_zcawna/maydayglow.com/wp-content/themes/Divi/includes/builder/module/helpers/HoverOptions.php
on line
71
Deprecated
: strpos(): Passing null to parameter #1 ($haystack) of type string is deprecated in
/home/dh_zcawna/maydayglow.com/wp-content/themes/Divi/includes/builder/module/helpers/HoverOptions.php
on line
71
Deprecated
: strpos(): Passing null to parameter #1 ($haystack) of type string is deprecated in
/home/dh_zcawna/maydayglow.com/wp-content/themes/Divi/includes/builder/module/helpers/HoverOptions.php
on line
71
Deprecated
: strpos(): Passing null to parameter #1 ($haystack) of type string is deprecated in
/home/dh_zcawna/maydayglow.com/wp-content/themes/Divi/includes/builder/module/helpers/HoverOptions.php
on line
71
Deprecated
: strpos(): Passing null to parameter #1 ($haystack) of type string is deprecated in
/home/dh_zcawna/maydayglow.com/wp-content/themes/Divi/includes/builder/module/helpers/HoverOptions.php
on line
71
Deprecated
: strpos(): Passing null to parameter #1 ($haystack) of type string is deprecated in
/home/dh_zcawna/maydayglow.com/wp-content/themes/Divi/includes/builder/module/helpers/HoverOptions.php
on line
71
Deprecated
: strpos(): Passing null to parameter #1 ($haystack) of type string is deprecated in
/home/dh_zcawna/maydayglow.com/wp-content/themes/Divi/includes/builder/module/helpers/HoverOptions.php
on line
71
Deprecated
: strpos(): Passing null to parameter #1 ($haystack) of type string is deprecated in
/home/dh_zcawna/maydayglow.com/wp-content/themes/Divi/includes/builder/module/helpers/HoverOptions.php
on line
71
Deprecated
: strpos(): Passing null to parameter #1 ($haystack) of type string is deprecated in
/home/dh_zcawna/maydayglow.com/wp-content/themes/Divi/includes/builder/module/helpers/HoverOptions.php
on line
71
Deprecated
: strpos(): Passing null to parameter #1 ($haystack) of type string is deprecated in
/home/dh_zcawna/maydayglow.com/wp-content/themes/Divi/includes/builder/module/helpers/HoverOptions.php
on line
71
Deprecated
: strpos(): Passing null to parameter #1 ($haystack) of type string is deprecated in
/home/dh_zcawna/maydayglow.com/wp-content/themes/Divi/includes/builder/module/helpers/HoverOptions.php
on line
71
Deprecated
: strpos(): Passing null to parameter #1 ($haystack) of type string is deprecated in
/home/dh_zcawna/maydayglow.com/wp-content/themes/Divi/includes/builder/module/helpers/HoverOptions.php
on line
71
Deprecated
: strpos(): Passing null to parameter #1 ($haystack) of type string is deprecated in
/home/dh_zcawna/maydayglow.com/wp-content/themes/Divi/includes/builder/module/helpers/HoverOptions.php
on line
71
Deprecated
: strpos(): Passing null to parameter #1 ($haystack) of type string is deprecated in
/home/dh_zcawna/maydayglow.com/wp-content/themes/Divi/includes/builder/module/helpers/HoverOptions.php
on line
71
Deprecated
: strpos(): Passing null to parameter #1 ($haystack) of type string is deprecated in
/home/dh_zcawna/maydayglow.com/wp-content/themes/Divi/includes/builder/module/helpers/HoverOptions.php
on line
71
Deprecated
: strpos(): Passing null to parameter #1 ($haystack) of type string is deprecated in
/home/dh_zcawna/maydayglow.com/wp-content/themes/Divi/includes/builder/module/helpers/HoverOptions.php
on line
71
Deprecated
: strpos(): Passing null to parameter #1 ($haystack) of type string is deprecated in
/home/dh_zcawna/maydayglow.com/wp-content/themes/Divi/includes/builder/module/helpers/HoverOptions.php
on line
71
Deprecated
: strpos(): Passing null to parameter #1 ($haystack) of type string is deprecated in
/home/dh_zcawna/maydayglow.com/wp-content/themes/Divi/includes/builder/module/helpers/HoverOptions.php
on line
71
Deprecated
: strpos(): Passing null to parameter #1 ($haystack) of type string is deprecated in
/home/dh_zcawna/maydayglow.com/wp-content/themes/Divi/includes/builder/module/helpers/HoverOptions.php
on line
71
Deprecated
: strpos(): Passing null to parameter #1 ($haystack) of type string is deprecated in
/home/dh_zcawna/maydayglow.com/wp-content/themes/Divi/includes/builder/module/helpers/HoverOptions.php
on line
71
Deprecated
: strpos(): Passing null to parameter #1 ($haystack) of type string is deprecated in
/home/dh_zcawna/maydayglow.com/wp-content/themes/Divi/includes/builder/module/helpers/HoverOptions.php
on line
71
Deprecated
: strpos(): Passing null to parameter #1 ($haystack) of type string is deprecated in
/home/dh_zcawna/maydayglow.com/wp-content/themes/Divi/includes/builder/module/helpers/HoverOptions.php
on line
71
Deprecated
: strpos(): Passing null to parameter #1 ($haystack) of type string is deprecated in
/home/dh_zcawna/maydayglow.com/wp-content/themes/Divi/includes/builder/module/helpers/HoverOptions.php
on line
71
Deprecated
: strpos(): Passing null to parameter #1 ($haystack) of type string is deprecated in
/home/dh_zcawna/maydayglow.com/wp-content/themes/Divi/includes/builder/module/helpers/HoverOptions.php
on line
71
Deprecated
: strpos(): Passing null to parameter #1 ($haystack) of type string is deprecated in
/home/dh_zcawna/maydayglow.com/wp-content/themes/Divi/includes/builder/module/helpers/HoverOptions.php
on line
71
Deprecated
: strpos(): Passing null to parameter #1 ($haystack) of type string is deprecated in
/home/dh_zcawna/maydayglow.com/wp-content/themes/Divi/includes/builder/module/helpers/HoverOptions.php
on line
71
Deprecated
: strpos(): Passing null to parameter #1 ($haystack) of type string is deprecated in
/home/dh_zcawna/maydayglow.com/wp-content/themes/Divi/includes/builder/module/helpers/HoverOptions.php
on line
71
Deprecated
: strpos(): Passing null to parameter #1 ($haystack) of type string is deprecated in
/home/dh_zcawna/maydayglow.com/wp-content/themes/Divi/includes/builder/module/helpers/HoverOptions.php
on line
71
Deprecated
: strpos(): Passing null to parameter #1 ($haystack) of type string is deprecated in
/home/dh_zcawna/maydayglow.com/wp-content/themes/Divi/includes/builder/module/helpers/HoverOptions.php
on line
71
Deprecated
: strpos(): Passing null to parameter #1 ($haystack) of type string is deprecated in
/home/dh_zcawna/maydayglow.com/wp-content/themes/Divi/includes/builder/module/helpers/HoverOptions.php
on line
71
Deprecated
: strpos(): Passing null to parameter #1 ($haystack) of type string is deprecated in
/home/dh_zcawna/maydayglow.com/wp-content/themes/Divi/includes/builder/module/helpers/HoverOptions.php
on line
71
Deprecated
: strpos(): Passing null to parameter #1 ($haystack) of type string is deprecated in
/home/dh_zcawna/maydayglow.com/wp-content/themes/Divi/includes/builder/module/helpers/HoverOptions.php
on line
71
Deprecated
: strpos(): Passing null to parameter #1 ($haystack) of type string is deprecated in
/home/dh_zcawna/maydayglow.com/wp-content/themes/Divi/includes/builder/module/helpers/HoverOptions.php
on line
71
Deprecated
: strpos(): Passing null to parameter #1 ($haystack) of type string is deprecated in
/home/dh_zcawna/maydayglow.com/wp-content/themes/Divi/includes/builder/module/helpers/HoverOptions.php
on line
71
Deprecated
: strpos(): Passing null to parameter #1 ($haystack) of type string is deprecated in
/home/dh_zcawna/maydayglow.com/wp-content/themes/Divi/includes/builder/module/helpers/HoverOptions.php
on line
71
Deprecated
: strpos(): Passing null to parameter #1 ($haystack) of type string is deprecated in
/home/dh_zcawna/maydayglow.com/wp-content/themes/Divi/includes/builder/module/helpers/HoverOptions.php
on line
71
Deprecated
: strpos(): Passing null to parameter #1 ($haystack) of type string is deprecated in
/home/dh_zcawna/maydayglow.com/wp-content/themes/Divi/includes/builder/module/helpers/HoverOptions.php
on line
71
Deprecated
: strpos(): Passing null to parameter #1 ($haystack) of type string is deprecated in
/home/dh_zcawna/maydayglow.com/wp-content/themes/Divi/includes/builder/module/helpers/HoverOptions.php
on line
71
Deprecated
: strpos(): Passing null to parameter #1 ($haystack) of type string is deprecated in
/home/dh_zcawna/maydayglow.com/wp-content/themes/Divi/includes/builder/module/helpers/HoverOptions.php
on line
71
Deprecated
: strpos(): Passing null to parameter #1 ($haystack) of type string is deprecated in
/home/dh_zcawna/maydayglow.com/wp-content/themes/Divi/includes/builder/module/helpers/HoverOptions.php
on line
71
Deprecated
: strpos(): Passing null to parameter #1 ($haystack) of type string is deprecated in
/home/dh_zcawna/maydayglow.com/wp-content/themes/Divi/includes/builder/module/helpers/HoverOptions.php
on line
71
Deprecated
: strpos(): Passing null to parameter #1 ($haystack) of type string is deprecated in
/home/dh_zcawna/maydayglow.com/wp-content/themes/Divi/includes/builder/module/helpers/HoverOptions.php
on line
71
Deprecated
: strpos(): Passing null to parameter #1 ($haystack) of type string is deprecated in
/home/dh_zcawna/maydayglow.com/wp-content/themes/Divi/includes/builder/module/helpers/HoverOptions.php
on line
71
Deprecated
: strpos(): Passing null to parameter #1 ($haystack) of type string is deprecated in
/home/dh_zcawna/maydayglow.com/wp-content/themes/Divi/includes/builder/module/helpers/HoverOptions.php
on line
71
Deprecated
: strpos(): Passing null to parameter #1 ($haystack) of type string is deprecated in
/home/dh_zcawna/maydayglow.com/wp-content/themes/Divi/includes/builder/module/helpers/HoverOptions.php
on line
71
Deprecated
: strpos(): Passing null to parameter #1 ($haystack) of type string is deprecated in
/home/dh_zcawna/maydayglow.com/wp-content/themes/Divi/includes/builder/module/helpers/HoverOptions.php
on line
71
Deprecated
: strpos(): Passing null to parameter #1 ($haystack) of type string is deprecated in
/home/dh_zcawna/maydayglow.com/wp-content/themes/Divi/includes/builder/module/helpers/HoverOptions.php
on line
71
Deprecated
: strpos(): Passing null to parameter #1 ($haystack) of type string is deprecated in
/home/dh_zcawna/maydayglow.com/wp-content/themes/Divi/includes/builder/module/helpers/HoverOptions.php
on line
71
Deprecated
: strpos(): Passing null to parameter #1 ($haystack) of type string is deprecated in
/home/dh_zcawna/maydayglow.com/wp-content/themes/Divi/includes/builder/module/helpers/HoverOptions.php
on line
71
Deprecated
: strpos(): Passing null to parameter #1 ($haystack) of type string is deprecated in
/home/dh_zcawna/maydayglow.com/wp-content/themes/Divi/includes/builder/module/helpers/HoverOptions.php
on line
71
Deprecated
: strpos(): Passing null to parameter #1 ($haystack) of type string is deprecated in
/home/dh_zcawna/maydayglow.com/wp-content/themes/Divi/includes/builder/module/helpers/HoverOptions.php
on line
71
Deprecated
: strpos(): Passing null to parameter #1 ($haystack) of type string is deprecated in
/home/dh_zcawna/maydayglow.com/wp-content/themes/Divi/includes/builder/module/helpers/HoverOptions.php
on line
71
Deprecated
: strpos(): Passing null to parameter #1 ($haystack) of type string is deprecated in
/home/dh_zcawna/maydayglow.com/wp-content/themes/Divi/includes/builder/module/helpers/HoverOptions.php
on line
71
Deprecated
: strpos(): Passing null to parameter #1 ($haystack) of type string is deprecated in
/home/dh_zcawna/maydayglow.com/wp-content/themes/Divi/includes/builder/module/helpers/HoverOptions.php
on line
71
Deprecated
: strpos(): Passing null to parameter #1 ($haystack) of type string is deprecated in
/home/dh_zcawna/maydayglow.com/wp-content/themes/Divi/includes/builder/module/helpers/HoverOptions.php
on line
71
Deprecated
: strpos(): Passing null to parameter #1 ($haystack) of type string is deprecated in
/home/dh_zcawna/maydayglow.com/wp-content/themes/Divi/includes/builder/module/helpers/HoverOptions.php
on line
71
Deprecated
: strpos(): Passing null to parameter #1 ($haystack) of type string is deprecated in
/home/dh_zcawna/maydayglow.com/wp-content/themes/Divi/includes/builder/module/helpers/HoverOptions.php
on line
71
Deprecated
: strpos(): Passing null to parameter #1 ($haystack) of type string is deprecated in
/home/dh_zcawna/maydayglow.com/wp-content/themes/Divi/includes/builder/module/helpers/HoverOptions.php
on line
71
Deprecated
: strpos(): Passing null to parameter #1 ($haystack) of type string is deprecated in
/home/dh_zcawna/maydayglow.com/wp-content/themes/Divi/includes/builder/module/helpers/HoverOptions.php
on line
71
Deprecated
: strpos(): Passing null to parameter #1 ($haystack) of type string is deprecated in
/home/dh_zcawna/maydayglow.com/wp-content/themes/Divi/includes/builder/module/helpers/HoverOptions.php
on line
71
Deprecated
: strpos(): Passing null to parameter #1 ($haystack) of type string is deprecated in
/home/dh_zcawna/maydayglow.com/wp-content/themes/Divi/includes/builder/module/helpers/HoverOptions.php
on line
71
Deprecated
: strpos(): Passing null to parameter #1 ($haystack) of type string is deprecated in
/home/dh_zcawna/maydayglow.com/wp-content/themes/Divi/includes/builder/module/helpers/HoverOptions.php
on line
71
Deprecated
: strpos(): Passing null to parameter #1 ($haystack) of type string is deprecated in
/home/dh_zcawna/maydayglow.com/wp-content/themes/Divi/includes/builder/module/helpers/HoverOptions.php
on line
71
Deprecated
: strpos(): Passing null to parameter #1 ($haystack) of type string is deprecated in
/home/dh_zcawna/maydayglow.com/wp-content/themes/Divi/includes/builder/module/helpers/HoverOptions.php
on line
71
Deprecated
: strpos(): Passing null to parameter #1 ($haystack) of type string is deprecated in
/home/dh_zcawna/maydayglow.com/wp-content/themes/Divi/includes/builder/module/helpers/HoverOptions.php
on line
71
Deprecated
: strpos(): Passing null to parameter #1 ($haystack) of type string is deprecated in
/home/dh_zcawna/maydayglow.com/wp-content/themes/Divi/includes/builder/module/helpers/HoverOptions.php
on line
71
Deprecated
: strpos(): Passing null to parameter #1 ($haystack) of type string is deprecated in
/home/dh_zcawna/maydayglow.com/wp-content/themes/Divi/includes/builder/module/helpers/HoverOptions.php
on line
71
Deprecated
: strpos(): Passing null to parameter #1 ($haystack) of type string is deprecated in
/home/dh_zcawna/maydayglow.com/wp-content/themes/Divi/includes/builder/module/helpers/HoverOptions.php
on line
71
Deprecated
: strpos(): Passing null to parameter #1 ($haystack) of type string is deprecated in
/home/dh_zcawna/maydayglow.com/wp-content/themes/Divi/includes/builder/module/helpers/HoverOptions.php
on line
71
Deprecated
: strpos(): Passing null to parameter #1 ($haystack) of type string is deprecated in
/home/dh_zcawna/maydayglow.com/wp-content/themes/Divi/includes/builder/module/helpers/HoverOptions.php
on line
71
Deprecated
: strpos(): Passing null to parameter #1 ($haystack) of type string is deprecated in
/home/dh_zcawna/maydayglow.com/wp-content/themes/Divi/includes/builder/module/helpers/HoverOptions.php
on line
71
Deprecated
: strpos(): Passing null to parameter #1 ($haystack) of type string is deprecated in
/home/dh_zcawna/maydayglow.com/wp-content/themes/Divi/includes/builder/module/helpers/HoverOptions.php
on line
71
Deprecated
: strpos(): Passing null to parameter #1 ($haystack) of type string is deprecated in
/home/dh_zcawna/maydayglow.com/wp-content/themes/Divi/includes/builder/module/helpers/HoverOptions.php
on line
71
Deprecated
: strpos(): Passing null to parameter #1 ($haystack) of type string is deprecated in
/home/dh_zcawna/maydayglow.com/wp-content/themes/Divi/includes/builder/module/helpers/HoverOptions.php
on line
71
Deprecated
: strpos(): Passing null to parameter #1 ($haystack) of type string is deprecated in
/home/dh_zcawna/maydayglow.com/wp-content/themes/Divi/includes/builder/module/helpers/HoverOptions.php
on line
71
Deprecated
: rtrim(): Passing null to parameter #1 ($string) of type string is deprecated in
/home/dh_zcawna/maydayglow.com/wp-content/themes/Divi/includes/builder/class-et-builder-element.php
on line
15982
Deprecated
: strpos(): Passing null to parameter #1 ($haystack) of type string is deprecated in
/home/dh_zcawna/maydayglow.com/wp-content/themes/Divi/includes/builder/module/helpers/HoverOptions.php
on line
71
Deprecated
: strpos(): Passing null to parameter #1 ($haystack) of type string is deprecated in
/home/dh_zcawna/maydayglow.com/wp-content/themes/Divi/includes/builder/module/helpers/HoverOptions.php
on line
71
Deprecated
: strpos(): Passing null to parameter #1 ($haystack) of type string is deprecated in
/home/dh_zcawna/maydayglow.com/wp-content/themes/Divi/includes/builder/module/helpers/HoverOptions.php
on line
71
Deprecated
: strpos(): Passing null to parameter #1 ($haystack) of type string is deprecated in
/home/dh_zcawna/maydayglow.com/wp-content/themes/Divi/includes/builder/module/helpers/HoverOptions.php
on line
71
Deprecated
: strpos(): Passing null to parameter #1 ($haystack) of type string is deprecated in
/home/dh_zcawna/maydayglow.com/wp-content/themes/Divi/includes/builder/module/helpers/HoverOptions.php
on line
71
Deprecated
: strpos(): Passing null to parameter #1 ($haystack) of type string is deprecated in
/home/dh_zcawna/maydayglow.com/wp-content/themes/Divi/includes/builder/module/helpers/HoverOptions.php
on line
71
Deprecated
: strpos(): Passing null to parameter #1 ($haystack) of type string is deprecated in
/home/dh_zcawna/maydayglow.com/wp-content/themes/Divi/includes/builder/module/helpers/HoverOptions.php
on line
71
Deprecated
: strpos(): Passing null to parameter #1 ($haystack) of type string is deprecated in
/home/dh_zcawna/maydayglow.com/wp-content/themes/Divi/includes/builder/module/helpers/HoverOptions.php
on line
71
Deprecated
: strpos(): Passing null to parameter #1 ($haystack) of type string is deprecated in
/home/dh_zcawna/maydayglow.com/wp-content/themes/Divi/includes/builder/module/helpers/HoverOptions.php
on line
71
Deprecated
: strpos(): Passing null to parameter #1 ($haystack) of type string is deprecated in
/home/dh_zcawna/maydayglow.com/wp-content/themes/Divi/includes/builder/module/helpers/HoverOptions.php
on line
71
Deprecated
: strpos(): Passing null to parameter #1 ($haystack) of type string is deprecated in
/home/dh_zcawna/maydayglow.com/wp-content/themes/Divi/includes/builder/module/helpers/HoverOptions.php
on line
71
Deprecated
: strpos(): Passing null to parameter #1 ($haystack) of type string is deprecated in
/home/dh_zcawna/maydayglow.com/wp-content/themes/Divi/includes/builder/module/helpers/HoverOptions.php
on line
71
Deprecated
: strpos(): Passing null to parameter #1 ($haystack) of type string is deprecated in
/home/dh_zcawna/maydayglow.com/wp-content/themes/Divi/includes/builder/module/helpers/HoverOptions.php
on line
71
Deprecated
: strpos(): Passing null to parameter #1 ($haystack) of type string is deprecated in
/home/dh_zcawna/maydayglow.com/wp-content/themes/Divi/includes/builder/module/helpers/HoverOptions.php
on line
71
Deprecated
: strpos(): Passing null to parameter #1 ($haystack) of type string is deprecated in
/home/dh_zcawna/maydayglow.com/wp-content/themes/Divi/includes/builder/module/helpers/HoverOptions.php
on line
71
Deprecated
: strpos(): Passing null to parameter #1 ($haystack) of type string is deprecated in
/home/dh_zcawna/maydayglow.com/wp-content/themes/Divi/includes/builder/module/helpers/HoverOptions.php
on line
71
Deprecated
: strpos(): Passing null to parameter #1 ($haystack) of type string is deprecated in
/home/dh_zcawna/maydayglow.com/wp-content/themes/Divi/includes/builder/module/helpers/HoverOptions.php
on line
71
Deprecated
: strpos(): Passing null to parameter #1 ($haystack) of type string is deprecated in
/home/dh_zcawna/maydayglow.com/wp-content/themes/Divi/includes/builder/module/helpers/HoverOptions.php
on line
71
Deprecated
: strpos(): Passing null to parameter #1 ($haystack) of type string is deprecated in
/home/dh_zcawna/maydayglow.com/wp-content/themes/Divi/includes/builder/module/helpers/HoverOptions.php
on line
71
Deprecated
: strpos(): Passing null to parameter #1 ($haystack) of type string is deprecated in
/home/dh_zcawna/maydayglow.com/wp-content/themes/Divi/includes/builder/module/helpers/HoverOptions.php
on line
71
Deprecated
: strpos(): Passing null to parameter #1 ($haystack) of type string is deprecated in
/home/dh_zcawna/maydayglow.com/wp-content/themes/Divi/includes/builder/module/helpers/HoverOptions.php
on line
71
Deprecated
: strpos(): Passing null to parameter #1 ($haystack) of type string is deprecated in
/home/dh_zcawna/maydayglow.com/wp-content/themes/Divi/includes/builder/module/helpers/HoverOptions.php
on line
71
Deprecated
: strpos(): Passing null to parameter #1 ($haystack) of type string is deprecated in
/home/dh_zcawna/maydayglow.com/wp-content/themes/Divi/includes/builder/module/helpers/HoverOptions.php
on line
71
Deprecated
: strpos(): Passing null to parameter #1 ($haystack) of type string is deprecated in
/home/dh_zcawna/maydayglow.com/wp-content/themes/Divi/includes/builder/module/helpers/HoverOptions.php
on line
71
Deprecated
: strpos(): Passing null to parameter #1 ($haystack) of type string is deprecated in
/home/dh_zcawna/maydayglow.com/wp-content/themes/Divi/includes/builder/module/helpers/HoverOptions.php
on line
71
Deprecated
: strpos(): Passing null to parameter #1 ($haystack) of type string is deprecated in
/home/dh_zcawna/maydayglow.com/wp-content/themes/Divi/includes/builder/module/helpers/HoverOptions.php
on line
71
Deprecated
: strpos(): Passing null to parameter #1 ($haystack) of type string is deprecated in
/home/dh_zcawna/maydayglow.com/wp-content/themes/Divi/includes/builder/module/helpers/HoverOptions.php
on line
71
Deprecated
: strpos(): Passing null to parameter #1 ($haystack) of type string is deprecated in
/home/dh_zcawna/maydayglow.com/wp-content/themes/Divi/includes/builder/module/helpers/HoverOptions.php
on line
71
Deprecated
: strpos(): Passing null to parameter #1 ($haystack) of type string is deprecated in
/home/dh_zcawna/maydayglow.com/wp-content/themes/Divi/includes/builder/module/helpers/HoverOptions.php
on line
71
Deprecated
: strpos(): Passing null to parameter #1 ($haystack) of type string is deprecated in
/home/dh_zcawna/maydayglow.com/wp-content/themes/Divi/includes/builder/module/helpers/HoverOptions.php
on line
71
Deprecated
: strpos(): Passing null to parameter #1 ($haystack) of type string is deprecated in
/home/dh_zcawna/maydayglow.com/wp-content/themes/Divi/includes/builder/module/helpers/HoverOptions.php
on line
71
Deprecated
: strpos(): Passing null to parameter #1 ($haystack) of type string is deprecated in
/home/dh_zcawna/maydayglow.com/wp-content/themes/Divi/includes/builder/module/helpers/HoverOptions.php
on line
71
Deprecated
: strpos(): Passing null to parameter #1 ($haystack) of type string is deprecated in
/home/dh_zcawna/maydayglow.com/wp-content/themes/Divi/includes/builder/module/helpers/HoverOptions.php
on line
71
Deprecated
: strpos(): Passing null to parameter #1 ($haystack) of type string is deprecated in
/home/dh_zcawna/maydayglow.com/wp-content/themes/Divi/includes/builder/module/helpers/HoverOptions.php
on line
71
Deprecated
: strpos(): Passing null to parameter #1 ($haystack) of type string is deprecated in
/home/dh_zcawna/maydayglow.com/wp-content/themes/Divi/includes/builder/module/helpers/HoverOptions.php
on line
71
Deprecated
: strpos(): Passing null to parameter #1 ($haystack) of type string is deprecated in
/home/dh_zcawna/maydayglow.com/wp-content/themes/Divi/includes/builder/module/helpers/HoverOptions.php
on line
71
Deprecated
: strpos(): Passing null to parameter #1 ($haystack) of type string is deprecated in
/home/dh_zcawna/maydayglow.com/wp-content/themes/Divi/includes/builder/module/helpers/HoverOptions.php
on line
71
Deprecated
: strpos(): Passing null to parameter #1 ($haystack) of type string is deprecated in
/home/dh_zcawna/maydayglow.com/wp-content/themes/Divi/includes/builder/module/helpers/HoverOptions.php
on line
71
Deprecated
: strpos(): Passing null to parameter #1 ($haystack) of type string is deprecated in
/home/dh_zcawna/maydayglow.com/wp-content/themes/Divi/includes/builder/module/helpers/HoverOptions.php
on line
71
Deprecated
: strpos(): Passing null to parameter #1 ($haystack) of type string is deprecated in
/home/dh_zcawna/maydayglow.com/wp-content/themes/Divi/includes/builder/module/helpers/HoverOptions.php
on line
71
Deprecated
: strpos(): Passing null to parameter #1 ($haystack) of type string is deprecated in
/home/dh_zcawna/maydayglow.com/wp-content/themes/Divi/includes/builder/module/helpers/HoverOptions.php
on line
71
Deprecated
: strpos(): Passing null to parameter #1 ($haystack) of type string is deprecated in
/home/dh_zcawna/maydayglow.com/wp-content/themes/Divi/includes/builder/module/helpers/HoverOptions.php
on line
71
Deprecated
: strpos(): Passing null to parameter #1 ($haystack) of type string is deprecated in
/home/dh_zcawna/maydayglow.com/wp-content/themes/Divi/includes/builder/module/helpers/HoverOptions.php
on line
71
Deprecated
: strpos(): Passing null to parameter #1 ($haystack) of type string is deprecated in
/home/dh_zcawna/maydayglow.com/wp-content/themes/Divi/includes/builder/module/helpers/HoverOptions.php
on line
71
Deprecated
: strpos(): Passing null to parameter #1 ($haystack) of type string is deprecated in
/home/dh_zcawna/maydayglow.com/wp-content/themes/Divi/includes/builder/module/helpers/HoverOptions.php
on line
71
Deprecated
: strpos(): Passing null to parameter #1 ($haystack) of type string is deprecated in
/home/dh_zcawna/maydayglow.com/wp-content/themes/Divi/includes/builder/module/helpers/HoverOptions.php
on line
71
Deprecated
: strpos(): Passing null to parameter #1 ($haystack) of type string is deprecated in
/home/dh_zcawna/maydayglow.com/wp-content/themes/Divi/includes/builder/module/helpers/HoverOptions.php
on line
71
Deprecated
: strpos(): Passing null to parameter #1 ($haystack) of type string is deprecated in
/home/dh_zcawna/maydayglow.com/wp-content/themes/Divi/includes/builder/module/helpers/HoverOptions.php
on line
71
Deprecated
: strpos(): Passing null to parameter #1 ($haystack) of type string is deprecated in
/home/dh_zcawna/maydayglow.com/wp-content/themes/Divi/includes/builder/module/helpers/HoverOptions.php
on line
71
Deprecated
: strpos(): Passing null to parameter #1 ($haystack) of type string is deprecated in
/home/dh_zcawna/maydayglow.com/wp-content/themes/Divi/includes/builder/module/helpers/HoverOptions.php
on line
71
Deprecated
: strpos(): Passing null to parameter #1 ($haystack) of type string is deprecated in
/home/dh_zcawna/maydayglow.com/wp-content/themes/Divi/includes/builder/module/helpers/HoverOptions.php
on line
71
Deprecated
: strpos(): Passing null to parameter #1 ($haystack) of type string is deprecated in
/home/dh_zcawna/maydayglow.com/wp-content/themes/Divi/includes/builder/module/helpers/HoverOptions.php
on line
71
Deprecated
: strpos(): Passing null to parameter #1 ($haystack) of type string is deprecated in
/home/dh_zcawna/maydayglow.com/wp-content/themes/Divi/includes/builder/module/helpers/HoverOptions.php
on line
71
Deprecated
: strpos(): Passing null to parameter #1 ($haystack) of type string is deprecated in
/home/dh_zcawna/maydayglow.com/wp-content/themes/Divi/includes/builder/module/helpers/HoverOptions.php
on line
71
Deprecated
: strpos(): Passing null to parameter #1 ($haystack) of type string is deprecated in
/home/dh_zcawna/maydayglow.com/wp-content/themes/Divi/includes/builder/module/helpers/HoverOptions.php
on line
71
Deprecated
: strpos(): Passing null to parameter #1 ($haystack) of type string is deprecated in
/home/dh_zcawna/maydayglow.com/wp-content/themes/Divi/includes/builder/module/helpers/HoverOptions.php
on line
71
Deprecated
: strpos(): Passing null to parameter #1 ($haystack) of type string is deprecated in
/home/dh_zcawna/maydayglow.com/wp-content/themes/Divi/includes/builder/module/helpers/HoverOptions.php
on line
71
Deprecated
: strpos(): Passing null to parameter #1 ($haystack) of type string is deprecated in
/home/dh_zcawna/maydayglow.com/wp-content/themes/Divi/includes/builder/module/helpers/HoverOptions.php
on line
71
Deprecated
: strpos(): Passing null to parameter #1 ($haystack) of type string is deprecated in
/home/dh_zcawna/maydayglow.com/wp-content/themes/Divi/includes/builder/module/helpers/HoverOptions.php
on line
71
Deprecated
: strpos(): Passing null to parameter #1 ($haystack) of type string is deprecated in
/home/dh_zcawna/maydayglow.com/wp-content/themes/Divi/includes/builder/module/helpers/HoverOptions.php
on line
71
Deprecated
: strpos(): Passing null to parameter #1 ($haystack) of type string is deprecated in
/home/dh_zcawna/maydayglow.com/wp-content/themes/Divi/includes/builder/module/helpers/HoverOptions.php
on line
71
Deprecated
: strpos(): Passing null to parameter #1 ($haystack) of type string is deprecated in
/home/dh_zcawna/maydayglow.com/wp-content/themes/Divi/includes/builder/module/helpers/HoverOptions.php
on line
71
Deprecated
: strpos(): Passing null to parameter #1 ($haystack) of type string is deprecated in
/home/dh_zcawna/maydayglow.com/wp-content/themes/Divi/includes/builder/module/helpers/HoverOptions.php
on line
71
Deprecated
: strpos(): Passing null to parameter #1 ($haystack) of type string is deprecated in
/home/dh_zcawna/maydayglow.com/wp-content/themes/Divi/includes/builder/module/helpers/HoverOptions.php
on line
71
Deprecated
: strpos(): Passing null to parameter #1 ($haystack) of type string is deprecated in
/home/dh_zcawna/maydayglow.com/wp-content/themes/Divi/includes/builder/module/helpers/HoverOptions.php
on line
71
Deprecated
: strpos(): Passing null to parameter #1 ($haystack) of type string is deprecated in
/home/dh_zcawna/maydayglow.com/wp-content/themes/Divi/includes/builder/module/helpers/HoverOptions.php
on line
71
Deprecated
: rtrim(): Passing null to parameter #1 ($string) of type string is deprecated in
/home/dh_zcawna/maydayglow.com/wp-content/themes/Divi/includes/builder/class-et-builder-element.php
on line
15982
Deprecated
: strpos(): Passing null to parameter #1 ($haystack) of type string is deprecated in
/home/dh_zcawna/maydayglow.com/wp-content/themes/Divi/includes/builder/module/helpers/HoverOptions.php
on line
71
Deprecated
: strpos(): Passing null to parameter #1 ($haystack) of type string is deprecated in
/home/dh_zcawna/maydayglow.com/wp-content/themes/Divi/includes/builder/module/helpers/HoverOptions.php
on line
71
Deprecated
: strpos(): Passing null to parameter #1 ($haystack) of type string is deprecated in
/home/dh_zcawna/maydayglow.com/wp-content/themes/Divi/includes/builder/module/helpers/HoverOptions.php
on line
71
Deprecated
: strpos(): Passing null to parameter #1 ($haystack) of type string is deprecated in
/home/dh_zcawna/maydayglow.com/wp-content/themes/Divi/includes/builder/module/helpers/HoverOptions.php
on line
71
Deprecated
: strpos(): Passing null to parameter #1 ($haystack) of type string is deprecated in
/home/dh_zcawna/maydayglow.com/wp-content/themes/Divi/includes/builder/module/helpers/HoverOptions.php
on line
71
Deprecated
: strpos(): Passing null to parameter #1 ($haystack) of type string is deprecated in
/home/dh_zcawna/maydayglow.com/wp-content/themes/Divi/includes/builder/module/helpers/HoverOptions.php
on line
71
Deprecated
: strpos(): Passing null to parameter #1 ($haystack) of type string is deprecated in
/home/dh_zcawna/maydayglow.com/wp-content/themes/Divi/includes/builder/module/helpers/HoverOptions.php
on line
71
Deprecated
: strpos(): Passing null to parameter #1 ($haystack) of type string is deprecated in
/home/dh_zcawna/maydayglow.com/wp-content/themes/Divi/includes/builder/module/helpers/HoverOptions.php
on line
71
Deprecated
: strpos(): Passing null to parameter #1 ($haystack) of type string is deprecated in
/home/dh_zcawna/maydayglow.com/wp-content/themes/Divi/includes/builder/module/helpers/HoverOptions.php
on line
71
Deprecated
: strpos(): Passing null to parameter #1 ($haystack) of type string is deprecated in
/home/dh_zcawna/maydayglow.com/wp-content/themes/Divi/includes/builder/module/helpers/HoverOptions.php
on line
71
Deprecated
: strpos(): Passing null to parameter #1 ($haystack) of type string is deprecated in
/home/dh_zcawna/maydayglow.com/wp-content/themes/Divi/includes/builder/module/helpers/HoverOptions.php
on line
71
Deprecated
: strpos(): Passing null to parameter #1 ($haystack) of type string is deprecated in
/home/dh_zcawna/maydayglow.com/wp-content/themes/Divi/includes/builder/module/helpers/HoverOptions.php
on line
71
Deprecated
: strpos(): Passing null to parameter #1 ($haystack) of type string is deprecated in
/home/dh_zcawna/maydayglow.com/wp-content/themes/Divi/includes/builder/module/helpers/HoverOptions.php
on line
71
Deprecated
: strpos(): Passing null to parameter #1 ($haystack) of type string is deprecated in
/home/dh_zcawna/maydayglow.com/wp-content/themes/Divi/includes/builder/module/helpers/HoverOptions.php
on line
71
Deprecated
: strpos(): Passing null to parameter #1 ($haystack) of type string is deprecated in
/home/dh_zcawna/maydayglow.com/wp-content/themes/Divi/includes/builder/module/helpers/HoverOptions.php
on line
71
Deprecated
: strpos(): Passing null to parameter #1 ($haystack) of type string is deprecated in
/home/dh_zcawna/maydayglow.com/wp-content/themes/Divi/includes/builder/module/helpers/HoverOptions.php
on line
71
Deprecated
: strpos(): Passing null to parameter #1 ($haystack) of type string is deprecated in
/home/dh_zcawna/maydayglow.com/wp-content/themes/Divi/includes/builder/module/helpers/HoverOptions.php
on line
71
Deprecated
: strpos(): Passing null to parameter #1 ($haystack) of type string is deprecated in
/home/dh_zcawna/maydayglow.com/wp-content/themes/Divi/includes/builder/module/helpers/HoverOptions.php
on line
71
Deprecated
: strpos(): Passing null to parameter #1 ($haystack) of type string is deprecated in
/home/dh_zcawna/maydayglow.com/wp-content/themes/Divi/includes/builder/module/helpers/HoverOptions.php
on line
71
Deprecated
: strpos(): Passing null to parameter #1 ($haystack) of type string is deprecated in
/home/dh_zcawna/maydayglow.com/wp-content/themes/Divi/includes/builder/module/helpers/HoverOptions.php
on line
71
Deprecated
: strpos(): Passing null to parameter #1 ($haystack) of type string is deprecated in
/home/dh_zcawna/maydayglow.com/wp-content/themes/Divi/includes/builder/module/helpers/HoverOptions.php
on line
71
Deprecated
: strpos(): Passing null to parameter #1 ($haystack) of type string is deprecated in
/home/dh_zcawna/maydayglow.com/wp-content/themes/Divi/includes/builder/module/helpers/HoverOptions.php
on line
71
Deprecated
: strpos(): Passing null to parameter #1 ($haystack) of type string is deprecated in
/home/dh_zcawna/maydayglow.com/wp-content/themes/Divi/includes/builder/module/helpers/HoverOptions.php
on line
71
Deprecated
: strpos(): Passing null to parameter #1 ($haystack) of type string is deprecated in
/home/dh_zcawna/maydayglow.com/wp-content/themes/Divi/includes/builder/module/helpers/HoverOptions.php
on line
71
Deprecated
: strpos(): Passing null to parameter #1 ($haystack) of type string is deprecated in
/home/dh_zcawna/maydayglow.com/wp-content/themes/Divi/includes/builder/module/helpers/HoverOptions.php
on line
71
Deprecated
: strpos(): Passing null to parameter #1 ($haystack) of type string is deprecated in
/home/dh_zcawna/maydayglow.com/wp-content/themes/Divi/includes/builder/module/helpers/HoverOptions.php
on line
71
Deprecated
: strpos(): Passing null to parameter #1 ($haystack) of type string is deprecated in
/home/dh_zcawna/maydayglow.com/wp-content/themes/Divi/includes/builder/module/helpers/HoverOptions.php
on line
71
Deprecated
: strpos(): Passing null to parameter #1 ($haystack) of type string is deprecated in
/home/dh_zcawna/maydayglow.com/wp-content/themes/Divi/includes/builder/module/helpers/HoverOptions.php
on line
71
Deprecated
: strpos(): Passing null to parameter #1 ($haystack) of type string is deprecated in
/home/dh_zcawna/maydayglow.com/wp-content/themes/Divi/includes/builder/module/helpers/HoverOptions.php
on line
71
Deprecated
: strpos(): Passing null to parameter #1 ($haystack) of type string is deprecated in
/home/dh_zcawna/maydayglow.com/wp-content/themes/Divi/includes/builder/module/helpers/HoverOptions.php
on line
71
Deprecated
: strpos(): Passing null to parameter #1 ($haystack) of type string is deprecated in
/home/dh_zcawna/maydayglow.com/wp-content/themes/Divi/includes/builder/module/helpers/HoverOptions.php
on line
71
Deprecated
: strpos(): Passing null to parameter #1 ($haystack) of type string is deprecated in
/home/dh_zcawna/maydayglow.com/wp-content/themes/Divi/includes/builder/module/helpers/HoverOptions.php
on line
71
Deprecated
: strpos(): Passing null to parameter #1 ($haystack) of type string is deprecated in
/home/dh_zcawna/maydayglow.com/wp-content/themes/Divi/includes/builder/module/helpers/HoverOptions.php
on line
71
Deprecated
: strpos(): Passing null to parameter #1 ($haystack) of type string is deprecated in
/home/dh_zcawna/maydayglow.com/wp-content/themes/Divi/includes/builder/module/helpers/HoverOptions.php
on line
71
Deprecated
: strpos(): Passing null to parameter #1 ($haystack) of type string is deprecated in
/home/dh_zcawna/maydayglow.com/wp-content/themes/Divi/includes/builder/module/helpers/HoverOptions.php
on line
71
Deprecated
: strpos(): Passing null to parameter #1 ($haystack) of type string is deprecated in
/home/dh_zcawna/maydayglow.com/wp-content/themes/Divi/includes/builder/module/helpers/HoverOptions.php
on line
71
Deprecated
: strpos(): Passing null to parameter #1 ($haystack) of type string is deprecated in
/home/dh_zcawna/maydayglow.com/wp-content/themes/Divi/includes/builder/module/helpers/HoverOptions.php
on line
71
Deprecated
: strpos(): Passing null to parameter #1 ($haystack) of type string is deprecated in
/home/dh_zcawna/maydayglow.com/wp-content/themes/Divi/includes/builder/module/helpers/HoverOptions.php
on line
71
Deprecated
: strpos(): Passing null to parameter #1 ($haystack) of type string is deprecated in
/home/dh_zcawna/maydayglow.com/wp-content/themes/Divi/includes/builder/module/helpers/HoverOptions.php
on line
71
Deprecated
: strpos(): Passing null to parameter #1 ($haystack) of type string is deprecated in
/home/dh_zcawna/maydayglow.com/wp-content/themes/Divi/includes/builder/module/helpers/HoverOptions.php
on line
71
Deprecated
: strpos(): Passing null to parameter #1 ($haystack) of type string is deprecated in
/home/dh_zcawna/maydayglow.com/wp-content/themes/Divi/includes/builder/module/helpers/HoverOptions.php
on line
71
Deprecated
: strpos(): Passing null to parameter #1 ($haystack) of type string is deprecated in
/home/dh_zcawna/maydayglow.com/wp-content/themes/Divi/includes/builder/module/helpers/HoverOptions.php
on line
71
Deprecated
: strpos(): Passing null to parameter #1 ($haystack) of type string is deprecated in
/home/dh_zcawna/maydayglow.com/wp-content/themes/Divi/includes/builder/module/helpers/HoverOptions.php
on line
71
Deprecated
: strpos(): Passing null to parameter #1 ($haystack) of type string is deprecated in
/home/dh_zcawna/maydayglow.com/wp-content/themes/Divi/includes/builder/module/helpers/HoverOptions.php
on line
71
Deprecated
: strpos(): Passing null to parameter #1 ($haystack) of type string is deprecated in
/home/dh_zcawna/maydayglow.com/wp-content/themes/Divi/includes/builder/module/helpers/HoverOptions.php
on line
71
Deprecated
: strpos(): Passing null to parameter #1 ($haystack) of type string is deprecated in
/home/dh_zcawna/maydayglow.com/wp-content/themes/Divi/includes/builder/module/helpers/HoverOptions.php
on line
71
Deprecated
: strpos(): Passing null to parameter #1 ($haystack) of type string is deprecated in
/home/dh_zcawna/maydayglow.com/wp-content/themes/Divi/includes/builder/module/helpers/HoverOptions.php
on line
71
Deprecated
: strpos(): Passing null to parameter #1 ($haystack) of type string is deprecated in
/home/dh_zcawna/maydayglow.com/wp-content/themes/Divi/includes/builder/module/helpers/HoverOptions.php
on line
71
Deprecated
: strpos(): Passing null to parameter #1 ($haystack) of type string is deprecated in
/home/dh_zcawna/maydayglow.com/wp-content/themes/Divi/includes/builder/module/helpers/HoverOptions.php
on line
71
Deprecated
: strpos(): Passing null to parameter #1 ($haystack) of type string is deprecated in
/home/dh_zcawna/maydayglow.com/wp-content/themes/Divi/includes/builder/module/helpers/HoverOptions.php
on line
71
Deprecated
: strpos(): Passing null to parameter #1 ($haystack) of type string is deprecated in
/home/dh_zcawna/maydayglow.com/wp-content/themes/Divi/includes/builder/module/helpers/HoverOptions.php
on line
71
Deprecated
: strpos(): Passing null to parameter #1 ($haystack) of type string is deprecated in
/home/dh_zcawna/maydayglow.com/wp-content/themes/Divi/includes/builder/module/helpers/HoverOptions.php
on line
71
Deprecated
: strpos(): Passing null to parameter #1 ($haystack) of type string is deprecated in
/home/dh_zcawna/maydayglow.com/wp-content/themes/Divi/includes/builder/module/helpers/HoverOptions.php
on line
71
Deprecated
: strpos(): Passing null to parameter #1 ($haystack) of type string is deprecated in
/home/dh_zcawna/maydayglow.com/wp-content/themes/Divi/includes/builder/module/helpers/HoverOptions.php
on line
71
Deprecated
: strpos(): Passing null to parameter #1 ($haystack) of type string is deprecated in
/home/dh_zcawna/maydayglow.com/wp-content/themes/Divi/includes/builder/module/helpers/HoverOptions.php
on line
71
Deprecated
: strpos(): Passing null to parameter #1 ($haystack) of type string is deprecated in
/home/dh_zcawna/maydayglow.com/wp-content/themes/Divi/includes/builder/module/helpers/HoverOptions.php
on line
71
Deprecated
: strpos(): Passing null to parameter #1 ($haystack) of type string is deprecated in
/home/dh_zcawna/maydayglow.com/wp-content/themes/Divi/includes/builder/module/helpers/HoverOptions.php
on line
71
Deprecated
: strpos(): Passing null to parameter #1 ($haystack) of type string is deprecated in
/home/dh_zcawna/maydayglow.com/wp-content/themes/Divi/includes/builder/module/helpers/HoverOptions.php
on line
71
Deprecated
: strpos(): Passing null to parameter #1 ($haystack) of type string is deprecated in
/home/dh_zcawna/maydayglow.com/wp-content/themes/Divi/includes/builder/module/helpers/HoverOptions.php
on line
71
Deprecated
: strpos(): Passing null to parameter #1 ($haystack) of type string is deprecated in
/home/dh_zcawna/maydayglow.com/wp-content/themes/Divi/includes/builder/module/helpers/HoverOptions.php
on line
71
Deprecated
: strpos(): Passing null to parameter #1 ($haystack) of type string is deprecated in
/home/dh_zcawna/maydayglow.com/wp-content/themes/Divi/includes/builder/module/helpers/HoverOptions.php
on line
71
Deprecated
: strpos(): Passing null to parameter #1 ($haystack) of type string is deprecated in
/home/dh_zcawna/maydayglow.com/wp-content/themes/Divi/includes/builder/module/helpers/HoverOptions.php
on line
71
Deprecated
: strpos(): Passing null to parameter #1 ($haystack) of type string is deprecated in
/home/dh_zcawna/maydayglow.com/wp-content/themes/Divi/includes/builder/module/helpers/HoverOptions.php
on line
71
Deprecated
: strpos(): Passing null to parameter #1 ($haystack) of type string is deprecated in
/home/dh_zcawna/maydayglow.com/wp-content/themes/Divi/includes/builder/module/helpers/HoverOptions.php
on line
71
Deprecated
: strpos(): Passing null to parameter #1 ($haystack) of type string is deprecated in
/home/dh_zcawna/maydayglow.com/wp-content/themes/Divi/includes/builder/module/helpers/HoverOptions.php
on line
71
Deprecated
: strpos(): Passing null to parameter #1 ($haystack) of type string is deprecated in
/home/dh_zcawna/maydayglow.com/wp-content/themes/Divi/includes/builder/module/helpers/HoverOptions.php
on line
71
Deprecated
: strpos(): Passing null to parameter #1 ($haystack) of type string is deprecated in
/home/dh_zcawna/maydayglow.com/wp-content/themes/Divi/includes/builder/module/helpers/HoverOptions.php
on line
71
Deprecated
: strpos(): Passing null to parameter #1 ($haystack) of type string is deprecated in
/home/dh_zcawna/maydayglow.com/wp-content/themes/Divi/includes/builder/module/helpers/HoverOptions.php
on line
71
Deprecated
: strpos(): Passing null to parameter #1 ($haystack) of type string is deprecated in
/home/dh_zcawna/maydayglow.com/wp-content/themes/Divi/includes/builder/module/helpers/HoverOptions.php
on line
71
Deprecated
: strpos(): Passing null to parameter #1 ($haystack) of type string is deprecated in
/home/dh_zcawna/maydayglow.com/wp-content/themes/Divi/includes/builder/module/helpers/HoverOptions.php
on line
71
Deprecated
: strpos(): Passing null to parameter #1 ($haystack) of type string is deprecated in
/home/dh_zcawna/maydayglow.com/wp-content/themes/Divi/includes/builder/module/helpers/HoverOptions.php
on line
71
Deprecated
: strpos(): Passing null to parameter #1 ($haystack) of type string is deprecated in
/home/dh_zcawna/maydayglow.com/wp-content/themes/Divi/includes/builder/module/helpers/HoverOptions.php
on line
71
Deprecated
: strpos(): Passing null to parameter #1 ($haystack) of type string is deprecated in
/home/dh_zcawna/maydayglow.com/wp-content/themes/Divi/includes/builder/module/helpers/HoverOptions.php
on line
71
Deprecated
: strpos(): Passing null to parameter #1 ($haystack) of type string is deprecated in
/home/dh_zcawna/maydayglow.com/wp-content/themes/Divi/includes/builder/module/helpers/HoverOptions.php
on line
71
Deprecated
: strpos(): Passing null to parameter #1 ($haystack) of type string is deprecated in
/home/dh_zcawna/maydayglow.com/wp-content/themes/Divi/includes/builder/module/helpers/HoverOptions.php
on line
71
Deprecated
: strpos(): Passing null to parameter #1 ($haystack) of type string is deprecated in
/home/dh_zcawna/maydayglow.com/wp-content/themes/Divi/includes/builder/module/helpers/HoverOptions.php
on line
71
Deprecated
: strpos(): Passing null to parameter #1 ($haystack) of type string is deprecated in
/home/dh_zcawna/maydayglow.com/wp-content/themes/Divi/includes/builder/module/helpers/HoverOptions.php
on line
71
Deprecated
: strpos(): Passing null to parameter #1 ($haystack) of type string is deprecated in
/home/dh_zcawna/maydayglow.com/wp-content/themes/Divi/includes/builder/module/helpers/HoverOptions.php
on line
71
Deprecated
: strpos(): Passing null to parameter #1 ($haystack) of type string is deprecated in
/home/dh_zcawna/maydayglow.com/wp-content/themes/Divi/includes/builder/module/helpers/HoverOptions.php
on line
71
Deprecated
: strpos(): Passing null to parameter #1 ($haystack) of type string is deprecated in
/home/dh_zcawna/maydayglow.com/wp-content/themes/Divi/includes/builder/module/helpers/HoverOptions.php
on line
71
Deprecated
: strpos(): Passing null to parameter #1 ($haystack) of type string is deprecated in
/home/dh_zcawna/maydayglow.com/wp-content/themes/Divi/includes/builder/module/helpers/HoverOptions.php
on line
71
Deprecated
: strpos(): Passing null to parameter #1 ($haystack) of type string is deprecated in
/home/dh_zcawna/maydayglow.com/wp-content/themes/Divi/includes/builder/module/helpers/HoverOptions.php
on line
71
Deprecated
: strpos(): Passing null to parameter #1 ($haystack) of type string is deprecated in
/home/dh_zcawna/maydayglow.com/wp-content/themes/Divi/includes/builder/module/helpers/HoverOptions.php
on line
71
Deprecated
: strpos(): Passing null to parameter #1 ($haystack) of type string is deprecated in
/home/dh_zcawna/maydayglow.com/wp-content/themes/Divi/includes/builder/module/helpers/HoverOptions.php
on line
71
Deprecated
: strpos(): Passing null to parameter #1 ($haystack) of type string is deprecated in
/home/dh_zcawna/maydayglow.com/wp-content/themes/Divi/includes/builder/module/helpers/HoverOptions.php
on line
71
Deprecated
: strpos(): Passing null to parameter #1 ($haystack) of type string is deprecated in
/home/dh_zcawna/maydayglow.com/wp-content/themes/Divi/includes/builder/module/helpers/HoverOptions.php
on line
71
Deprecated
: strpos(): Passing null to parameter #1 ($haystack) of type string is deprecated in
/home/dh_zcawna/maydayglow.com/wp-content/themes/Divi/includes/builder/module/helpers/HoverOptions.php
on line
71
Deprecated
: strpos(): Passing null to parameter #1 ($haystack) of type string is deprecated in
/home/dh_zcawna/maydayglow.com/wp-content/themes/Divi/includes/builder/module/helpers/HoverOptions.php
on line
71
Deprecated
: strpos(): Passing null to parameter #1 ($haystack) of type string is deprecated in
/home/dh_zcawna/maydayglow.com/wp-content/themes/Divi/includes/builder/module/helpers/HoverOptions.php
on line
71
Deprecated
: strpos(): Passing null to parameter #1 ($haystack) of type string is deprecated in
/home/dh_zcawna/maydayglow.com/wp-content/themes/Divi/includes/builder/module/helpers/HoverOptions.php
on line
71
Deprecated
: strpos(): Passing null to parameter #1 ($haystack) of type string is deprecated in
/home/dh_zcawna/maydayglow.com/wp-content/themes/Divi/includes/builder/module/helpers/HoverOptions.php
on line
71
Deprecated
: strpos(): Passing null to parameter #1 ($haystack) of type string is deprecated in
/home/dh_zcawna/maydayglow.com/wp-content/themes/Divi/includes/builder/module/helpers/HoverOptions.php
on line
71
Deprecated
: strpos(): Passing null to parameter #1 ($haystack) of type string is deprecated in
/home/dh_zcawna/maydayglow.com/wp-content/themes/Divi/includes/builder/module/helpers/HoverOptions.php
on line
71
Deprecated
: strpos(): Passing null to parameter #1 ($haystack) of type string is deprecated in
/home/dh_zcawna/maydayglow.com/wp-content/themes/Divi/includes/builder/module/helpers/HoverOptions.php
on line
71
Deprecated
: strpos(): Passing null to parameter #1 ($haystack) of type string is deprecated in
/home/dh_zcawna/maydayglow.com/wp-content/themes/Divi/includes/builder/module/helpers/HoverOptions.php
on line
71
Deprecated
: strpos(): Passing null to parameter #1 ($haystack) of type string is deprecated in
/home/dh_zcawna/maydayglow.com/wp-content/themes/Divi/includes/builder/module/helpers/HoverOptions.php
on line
71
Deprecated
: strpos(): Passing null to parameter #1 ($haystack) of type string is deprecated in
/home/dh_zcawna/maydayglow.com/wp-content/themes/Divi/includes/builder/module/helpers/HoverOptions.php
on line
71
Deprecated
: strpos(): Passing null to parameter #1 ($haystack) of type string is deprecated in
/home/dh_zcawna/maydayglow.com/wp-content/themes/Divi/includes/builder/module/helpers/HoverOptions.php
on line
71
Deprecated
: strpos(): Passing null to parameter #1 ($haystack) of type string is deprecated in
/home/dh_zcawna/maydayglow.com/wp-content/themes/Divi/includes/builder/module/helpers/HoverOptions.php
on line
71
Deprecated
: strpos(): Passing null to parameter #1 ($haystack) of type string is deprecated in
/home/dh_zcawna/maydayglow.com/wp-content/themes/Divi/includes/builder/module/helpers/HoverOptions.php
on line
71
Deprecated
: strpos(): Passing null to parameter #1 ($haystack) of type string is deprecated in
/home/dh_zcawna/maydayglow.com/wp-content/themes/Divi/includes/builder/module/helpers/HoverOptions.php
on line
71
Deprecated
: strpos(): Passing null to parameter #1 ($haystack) of type string is deprecated in
/home/dh_zcawna/maydayglow.com/wp-content/themes/Divi/includes/builder/module/helpers/HoverOptions.php
on line
71
Deprecated
: strpos(): Passing null to parameter #1 ($haystack) of type string is deprecated in
/home/dh_zcawna/maydayglow.com/wp-content/themes/Divi/includes/builder/module/helpers/HoverOptions.php
on line
71
Deprecated
: strpos(): Passing null to parameter #1 ($haystack) of type string is deprecated in
/home/dh_zcawna/maydayglow.com/wp-content/themes/Divi/includes/builder/module/helpers/HoverOptions.php
on line
71
Deprecated
: strpos(): Passing null to parameter #1 ($haystack) of type string is deprecated in
/home/dh_zcawna/maydayglow.com/wp-content/themes/Divi/includes/builder/module/helpers/HoverOptions.php
on line
71
Deprecated
: strpos(): Passing null to parameter #1 ($haystack) of type string is deprecated in
/home/dh_zcawna/maydayglow.com/wp-content/themes/Divi/includes/builder/module/helpers/HoverOptions.php
on line
71
Deprecated
: strpos(): Passing null to parameter #1 ($haystack) of type string is deprecated in
/home/dh_zcawna/maydayglow.com/wp-content/themes/Divi/includes/builder/module/helpers/HoverOptions.php
on line
71
Deprecated
: strpos(): Passing null to parameter #1 ($haystack) of type string is deprecated in
/home/dh_zcawna/maydayglow.com/wp-content/themes/Divi/includes/builder/module/helpers/HoverOptions.php
on line
71
Deprecated
: strpos(): Passing null to parameter #1 ($haystack) of type string is deprecated in
/home/dh_zcawna/maydayglow.com/wp-content/themes/Divi/includes/builder/module/helpers/HoverOptions.php
on line
71
Deprecated
: strpos(): Passing null to parameter #1 ($haystack) of type string is deprecated in
/home/dh_zcawna/maydayglow.com/wp-content/themes/Divi/includes/builder/module/helpers/HoverOptions.php
on line
71
Deprecated
: strpos(): Passing null to parameter #1 ($haystack) of type string is deprecated in
/home/dh_zcawna/maydayglow.com/wp-content/themes/Divi/includes/builder/module/helpers/HoverOptions.php
on line
71
Deprecated
: strpos(): Passing null to parameter #1 ($haystack) of type string is deprecated in
/home/dh_zcawna/maydayglow.com/wp-content/themes/Divi/includes/builder/module/helpers/HoverOptions.php
on line
71
Deprecated
: strpos(): Passing null to parameter #1 ($haystack) of type string is deprecated in
/home/dh_zcawna/maydayglow.com/wp-content/themes/Divi/includes/builder/module/helpers/HoverOptions.php
on line
71
Deprecated
: rtrim(): Passing null to parameter #1 ($string) of type string is deprecated in
/home/dh_zcawna/maydayglow.com/wp-content/themes/Divi/includes/builder/class-et-builder-element.php
on line
15982
Deprecated
: strpos(): Passing null to parameter #1 ($haystack) of type string is deprecated in
/home/dh_zcawna/maydayglow.com/wp-content/themes/Divi/includes/builder/module/helpers/HoverOptions.php
on line
71
Deprecated
: strpos(): Passing null to parameter #1 ($haystack) of type string is deprecated in
/home/dh_zcawna/maydayglow.com/wp-content/themes/Divi/includes/builder/module/helpers/HoverOptions.php
on line
71
Deprecated
: strpos(): Passing null to parameter #1 ($haystack) of type string is deprecated in
/home/dh_zcawna/maydayglow.com/wp-content/themes/Divi/includes/builder/module/helpers/HoverOptions.php
on line
71
Deprecated
: strpos(): Passing null to parameter #1 ($haystack) of type string is deprecated in
/home/dh_zcawna/maydayglow.com/wp-content/themes/Divi/includes/builder/module/helpers/HoverOptions.php
on line
71
Deprecated
: strpos(): Passing null to parameter #1 ($haystack) of type string is deprecated in
/home/dh_zcawna/maydayglow.com/wp-content/themes/Divi/includes/builder/module/helpers/HoverOptions.php
on line
71
Deprecated
: strpos(): Passing null to parameter #1 ($haystack) of type string is deprecated in
/home/dh_zcawna/maydayglow.com/wp-content/themes/Divi/includes/builder/module/helpers/HoverOptions.php
on line
71
Deprecated
: strpos(): Passing null to parameter #1 ($haystack) of type string is deprecated in
/home/dh_zcawna/maydayglow.com/wp-content/themes/Divi/includes/builder/module/helpers/HoverOptions.php
on line
71
Deprecated
: strpos(): Passing null to parameter #1 ($haystack) of type string is deprecated in
/home/dh_zcawna/maydayglow.com/wp-content/themes/Divi/includes/builder/module/helpers/HoverOptions.php
on line
71
Deprecated
: strpos(): Passing null to parameter #1 ($haystack) of type string is deprecated in
/home/dh_zcawna/maydayglow.com/wp-content/themes/Divi/includes/builder/module/helpers/HoverOptions.php
on line
71
Deprecated
: strpos(): Passing null to parameter #1 ($haystack) of type string is deprecated in
/home/dh_zcawna/maydayglow.com/wp-content/themes/Divi/includes/builder/module/helpers/HoverOptions.php
on line
71
Deprecated
: strpos(): Passing null to parameter #1 ($haystack) of type string is deprecated in
/home/dh_zcawna/maydayglow.com/wp-content/themes/Divi/includes/builder/module/helpers/HoverOptions.php
on line
71
Deprecated
: strpos(): Passing null to parameter #1 ($haystack) of type string is deprecated in
/home/dh_zcawna/maydayglow.com/wp-content/themes/Divi/includes/builder/module/helpers/HoverOptions.php
on line
71
Deprecated
: strpos(): Passing null to parameter #1 ($haystack) of type string is deprecated in
/home/dh_zcawna/maydayglow.com/wp-content/themes/Divi/includes/builder/module/helpers/HoverOptions.php
on line
71
Deprecated
: strpos(): Passing null to parameter #1 ($haystack) of type string is deprecated in
/home/dh_zcawna/maydayglow.com/wp-content/themes/Divi/includes/builder/module/helpers/HoverOptions.php
on line
71
Deprecated
: strpos(): Passing null to parameter #1 ($haystack) of type string is deprecated in
/home/dh_zcawna/maydayglow.com/wp-content/themes/Divi/includes/builder/module/helpers/HoverOptions.php
on line
71
Deprecated
: strpos(): Passing null to parameter #1 ($haystack) of type string is deprecated in
/home/dh_zcawna/maydayglow.com/wp-content/themes/Divi/includes/builder/module/helpers/HoverOptions.php
on line
71
Deprecated
: strpos(): Passing null to parameter #1 ($haystack) of type string is deprecated in
/home/dh_zcawna/maydayglow.com/wp-content/themes/Divi/includes/builder/module/helpers/HoverOptions.php
on line
71
Deprecated
: strpos(): Passing null to parameter #1 ($haystack) of type string is deprecated in
/home/dh_zcawna/maydayglow.com/wp-content/themes/Divi/includes/builder/module/helpers/HoverOptions.php
on line
71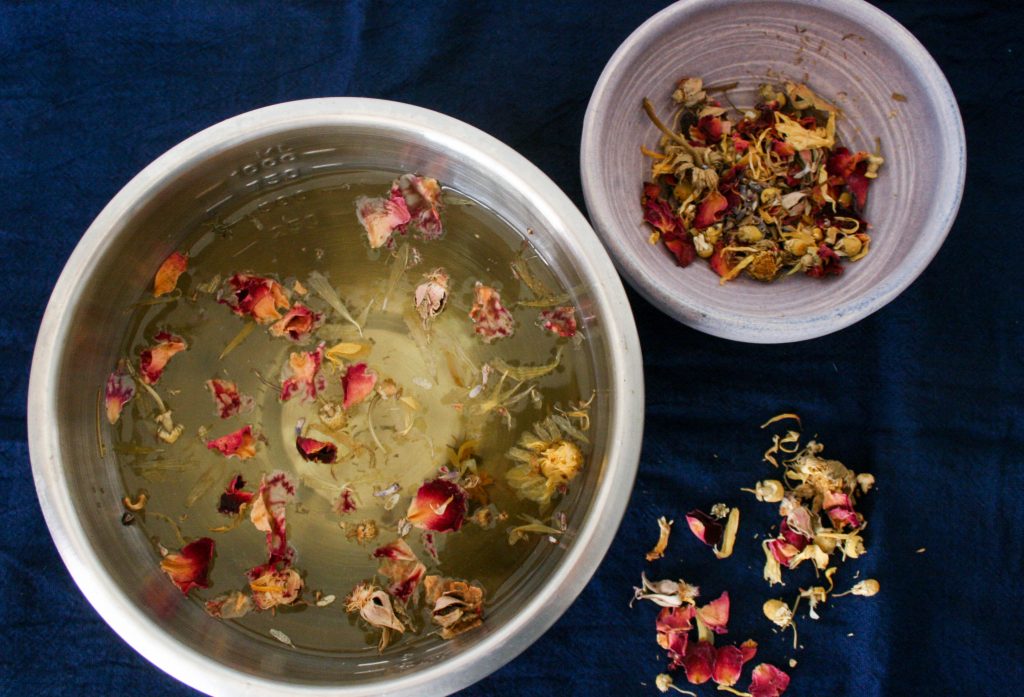 I've never had a professional facial; I know, I know. I'm a green beauty blogger – shouldn't that be at the top of my list? I do dream of making an appointment one day but most treatments at organic spas cost about 1/4 of my rent, at least here in L.A. But while browsing fancy spas and wishful thinking, I noticed that steaming is a part of the treatment, something that up until recently I reserved for alleviating a head cold.
Steaming works like a deep clean, unclogging the buildup from your pores while encouraging blood flow and increased circulation which is incredibly wonderful for dull, tired skin. And it's one of the easiest, yet most indulgent DIYs out there! [Ed. note: this also comes in handy if you told someone you worked out, but instead decided to collapse onto the couch and watch Netflix. Just steam your face and you'll have a legit-looking workout glow to show off.]
I now steam before applying my weekly mask and each time I've experienced an instant revitalized glow along with better efficacy from my pricey products! Incorporating this steam step into your routine does take a few minutes extra, but if you have a fancy product that you feel guilty even using, applying it after a steam is the best time to use it since your skin is ready to soak up every penny's worth of its benefits.
Just hot water and a towel will do the trick but you can customize your home steam with the essential oils, herbs and flowers beneficial to your skin type.
DIY Therapeutic Facial Steam
Here's my custom blend, good for normal/dry skin: 1/3 cup blend of dried rose buds/petals, calendula, chamomile, and lavender.
My method:
Pour a full tea kettle amount of boiling water into a large pot.
Throw in your desired herbs or essential oils and mix around.
Lean over the pot and drape a large towel over your head to trap in steam and breathe deeply. Sit for 8-10 minutes, enough time to allow the steam to cleanse pores and for the beneficial oils to sink in. Take intermittent breaks from the steam, when needed (note – if someone's in the room with you, its fun to look out from under your towel and cackle like a witch).
Rinse face with lukewarm water then apply a mask or just finish your routine with your night time serum/moisturizer.
If you have rosacea or redness, you may want to limit to 3-5 minutes or skip steaming altogether since it increases circulation and can irritate already inflamed skin.
When finished, you can compost the herbs and water your plants the facial steam water.
Happy home spa day!