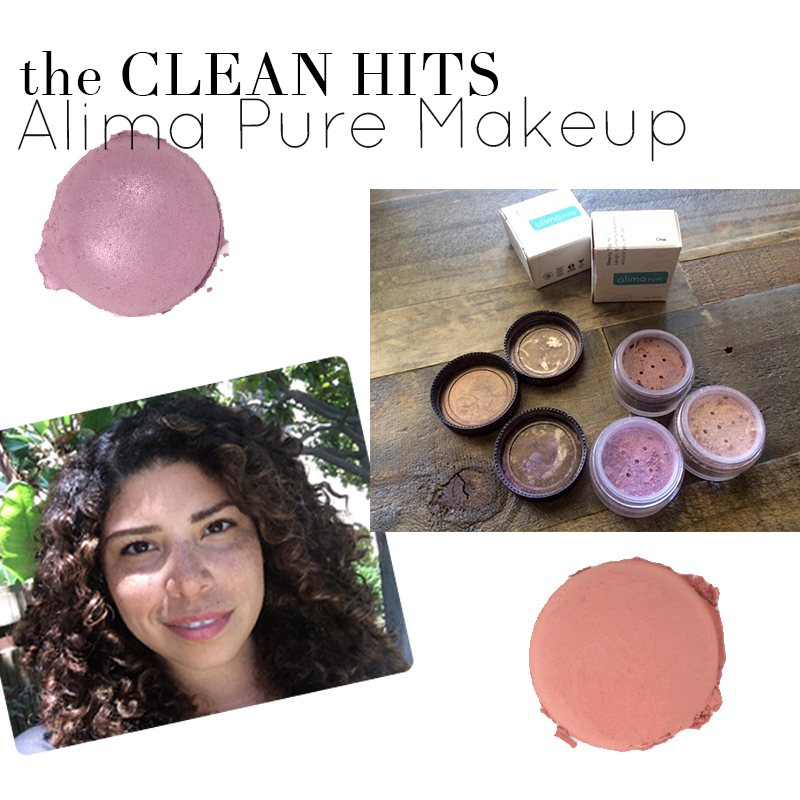 I have so many wonderful products on my bathroom shelves that I want to feature and give adequate attention to each brand.  To do this,  I'm launching The Clean Hits segment!  I will feature products from brands that absolutely WOW me to spread the wealth and I couldn't think of a better brand to kick off this segment than Alima Pure.
THE BRAND: ALIMA PURE
I really can not sing enough praises about this line of mineral makeup. In addition to creating beautiful shades of makeup that are high quality and affordable, Alima Pure also takes meaningful steps to operate as a truly eco-minded and sustainable company. In addition to providing certified natural cosmetics (natural by high Euro standards, yay!),  they are also:
A certified B-corp
A member of 1% for the Planet,
A carbon-neutral business
Alima Pure encompasses the health, beauty, social and environmental philosophies
that I'd like to see in all truly natural beauty lines.
WHY I LOVE IT:

I was originally drawn to Alima when I found out how many foundation shades they have (over 60!) and under $25! I ordered a few samples of the Satin Matte Foundation to color match my skin (at $1.75/piece, you can order quite a few). They also have a custom sample package if you use their Foundation Selector tool.  

If you are beginning to transition to clean makeup, this is such a great line to start with. My biggest challenge was replacing my holy-grail status Lorac wet/dry powder that took me forever to find as most conventional lines didn't offer a lot of undertone options in their deeper shades.  I was once turned away from the Clinique counter because the ding-dong counter girl couldn't find a shade that matched my skin -not that I'm traumatized, or anything….*smashes ALL the Clinique bottles*
If you are overwhelmed or need direction (about makeup, probably not on life), one of their makeup artists will recommend shades for you. They also send samples with orders of full-size products. 
Their eyeshadows, blushes, and bronzers are also amazing! Can you tell I'm smitten?
MY PICKS
Satin Matte Foundation – Buildable coverage with smooth finish that never creases. I use Warm 4 and Beige 4, depending on whether I've been outside – I'll sometimes even blend the two.
Eyeshadows – Alima's eyeshadows have a cult following within the green beauty community. They offer beautiful shades that range from slight shimmers to deeply-pigmented bold options.
My most frequently used shades are Chai – a shimmering rose gold that is wonderful for an everyday subtle glow and Orchid, a gorgeous, soft fuschia that is stunning on brown eyes (hurry – it's a limited edition color!)
Bronzer –  I use Trinidad, the darkest bronzing shade offered. It's great way to prolong the summer tan on deeper-toned skin. I also use it for a contour effect (which I'm still perfecting). While it's a bit too light for me, I've heard rave reviews about Belieze, suited for light/medium skin tones.
Navy Eyeliner – Included as a surprise sample in a past order, the subtle hint of color convinced me to stray from my black eyeliner rut. This stays-put and doesn't smudge!  I love applying this shade as a bold cat eye, paired with a bright pink lip.
Have you tried Alima's products? Anything to add to these picks? Comment below!