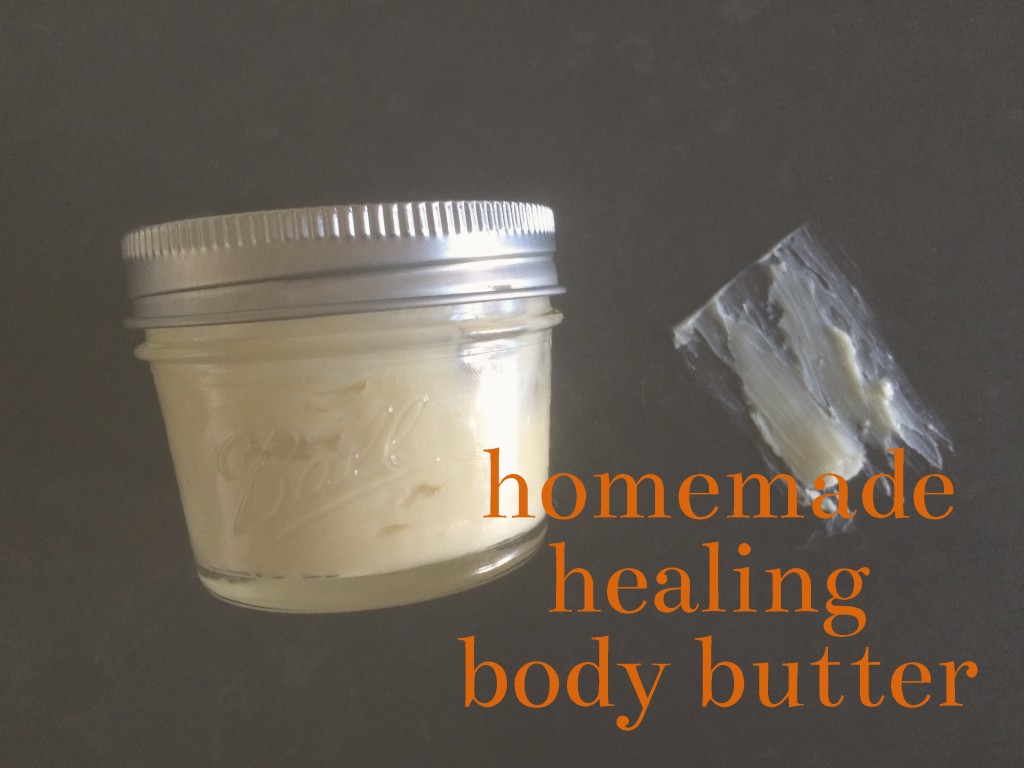 As a kid, summer meant never not being in a pool (AZ life, hollaaa) but at the end of a carefree day, I would come home with patches of itchy, dry skin. This summer has been reminiscent of my childhood; traveling, being outside all day, nothing to worry about except which type of ice cream to devour for dessert. But spending so much time in the elements has returned my skin to that scaly fishchild state. One of the first things I did when I got home from vacationing was whip up a batch of this body butter/lotion, et voila, my skin was renewed!
This homemade body butter soothes virtually every skin irritation issue; dry skin disappears, rashes and bites are calmed and it also heals and prevents scarring, which is wonderful for my darker, scar-prone skin.  This would also be great for preventing stretch marks and healing burns.It's thick and luxurious due to the incredible healing properties in these rich ingredients. Not to mention it smells like chocolate frosting (no, it doesn't taste like frosting..not that I've tried it or anything…*looks away*).
If greasy lotion bothers you, just make sure to slather it just before you go to bed to give your skin plenty of time to soak it up.
Healing Body Butter Recipe
To get the most out of any homemade products, make sure to purchase raw ingredients that are responsibly-sourced and organic. I purchase mine from Mountain Rose Herbs, Lassen's (LA area), or Whole Foods.
1/4 cup Shea butter (improves elasticity, collagen production, intense moisture, anti-inflammatory)
1/4 cup coconut oil (healthy fatty acids, rich in vitamins K, E and iron, anti-bacterial/anti-viral)
1/4 cup cocoa butter (antioxidants, rich in vitamin E, caffeine said to help firming/reduce cellulite)
1/4 cup jojoba or sweet almond oil
10-15 drops of essential oils of your choice (I prefer rose or neroli)
Hand mixer (optional)
Combine the first four ingredients in a sterilized glass bowl and melt using a double boiler. Once melted, let the bowl cool down then place in fridge until the ingredients solidify (about 45 min-1 hr).
Optional, yet highly recommended: use a blender to whip ingredients for about 5-8 minutes, until a frosting-like consistency is achieved.
Mix in essential oils of your choice, if desired. When you choose your oils, keep in mind that there will be a strong chocolatey smell from the cocoa butter, so they should pair well with that. Slather this on after exfoliating/dry brushing and feel like a queen. Store in an airtight glass jar, like a small mason jar. Use within 1 month. Enjoy! You'll definitely be feeling yourself.