In part one of this post, I provided loads of information about how the majority of the clothes we wear are made; it's not pretty and not surprisingly, cheap merchandise comes at great expense to people and the environment.
In exchange for reading through that heavy post, I promised I'd bring positive solutions to part II…so here they are!
Cleaning Up Your Closet
In the 1930s, the average American woman owned just nine outfits. Fast forward to today and the average woman purchases around 60 pieces of new clothing and shoes each year. Just between 1999 to 2009, the volume of clothing purchased by Americans grew by 40%.  While the amount we buy has increased, recycling rates have not. This excess leads to average of 54 lbs of recyclable clothing and shoes thrown out by each person, each year. The Environmental Protection Agency reports that out of all reusable materials, textiles have one of the lowest recycling rates and the U.S. trashes around 85% of all textiles produced.
Just like detoxing your beauty routine doesn't mean you have to look like a greasy hippie (unless that's what you're going for – #savewater), creating a more sustainable closet doesn't mean giving up your style. It does mean buying a lot less, but I guarantee that you'll invest in pieces that you will love and cherish for years. The fabulous designer and eco-fashion pioneer, Vivienne Westwood, says it best: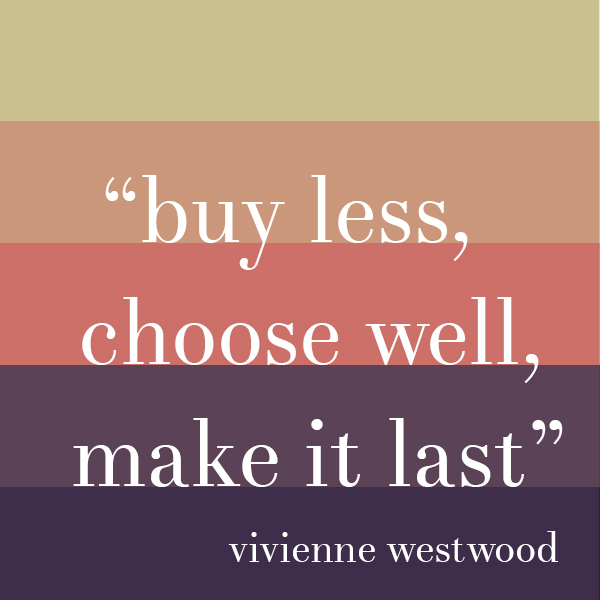 New clothes are fun. I promise, I know from first hand experience that it's going to be tough to walk by an Urban Outfitters and not walk in to see what's on sale. But when we make more informed buying decisions, we shift our behavior as consumers, recognizing the external forces that make us feel like we don't have enough. There is a way to have a stylish closet, support clothing retailers with good ethics, and have a new outfit for every special occasion in your life.  I now stick to what I truly need and do my research before purchasing. I find that I have a lot of basics with a twist that can be dressed up or down.  My style has evolved and improved since I've been more intentional about what I add to my closet. I pair a classic item with a quirkier, vintage one. Here are some tips that have helped me create a closet that reflects my values and save money:
Host a clothing exchange
If every woman in America swapped rather than shopped for just 30 days, it would save one billion pounds of landfill waste. My friends and I have seasonal clothing exchanges and we are all frequently surprised at the gems we've discovered that were hidden away in each other's closets. There are also large scale clothing exchanges that happen; check out meetup.com for clothing swaps in your area.
Shop small
Supporting local shops and designers means a more transparent supply chain. If you want to know the origins of the textiles, you can just ask the designers. Look up eco-boutiques in your area or check out the awesome online retailers (see some of my favorites, below). There's a great artist and design fair, Unique LA, that takes place twice a year and features local and some eco-friendly designers. Check them out here!
Get picky
Be honest with yourself and only buy items that fit well and that you truly love. Soon after I started to plan each clothing purchase, I realized how many times in the past I would buy something even though I didn't really like it. I'd rationalize the purchase, saying "well, it'll fit after I lose 8 lbs", or "it's on sale, so I'll just get it". And that's how I ended up with a closet brimming with stuff, but never anything to wear.  Now, I pay attention to how I feel; if it isn't 100% flattering, I will not feel confident in it, and I know I won't wear it very much.
Let a professional re-imagine your closet; for free
Look at blogs and websites for ideas. I like to dream on Net A Porter for high-end looks that I can recreate with what I have in my closet. Have a crisp white button-down? Find one on your favorite fashion bloggers or brands to see how it's styled and recreate it with similar items you probably have in your closet.
Make like Cher and digitize your wardrobe
How many times have you bought something only to get home and realize you already own something way too similar that you forgot about? Well there are apps to prevent that from happening ever again. Remember Cher's automated outfit chooser in Clueless? Well, duh, there are apps for that IRL, guys. Check out these closet organizer apps that make it easier for you to mix and match pieces, creating new outfits with what you already have. Many of the apps let users view each other's closets and dish styling advice.
One item in, one item out
If I take something home, whether new or used, I have to get rid of something I already own. This has probably been the most helpful commitment to not only recycling my clothing and preventing waste, but also, to decluttering my closet. If I'm not willing to part with anything I already own, then that probably means that I don't really need whatever it is I'm about to buy.
5 Tips for Thrift and Vintage Shopping
1. NEVER go looking for something too specific
Limit to one requirement; skinny jeans? Okay, you'll probably find a pair. Grey-washed skinny jeans? You'll probably leave frustrated. I often browse if I just need a closet perk and stay open to finding unexpected gems.
2. Look for off-season wear
You'll find the least picked-over sections at markdown prices. Be ready to buy a heavy coat in the middle of July.
3. Do a quick scan of the "featured" items
This includes items on mannequins, in windows, hanging up on the walls, and designer pieces kept behind the counter.  This is where you'll find mid to high-end designer stuff. One of my prized possessions is an A.P.C. black bomber I picked up for $40. You may strike out but try again on another day. That's the fun of shopping second hand!
4. Be a label snob
Try your best to pass on the "fast fashion" brands. Places like Crossroads and Buffalo will resell Forever21 and other cheap brands for almost as much as they are new (which still, isn't much). This also sends the message to the resale buyers that you, with your discriminating taste and strong ethics, would rather buy well-made pieces that have longer wear than buy some 21 year-old's doudy ex-clubbing wear.
5. Look for quality
If someone asked me to describe the qualities of a well-made garment a few years ago, they would've received a blank stare.  Now that I buy for quality, I examine pieces before purchasing, both new and used. Now that I check, I'm amazed at how many times I've seen seams already unraveling on new items, still on the rack.  Allow for some gentle wear and tear on good-quality used items. Most of the time it can be hemmed or cleaned, or taken in/out by a tailor. Test the zippers – they should glide without any catching. Look for high-quality linings in dressy items like jackets and pants. Here's a great guide to help you find clothing that will last.
My favorite consignment and vintage shops in L.A.
I've made this list to feature relatively affordable consignment shops. If you're seeking high-end shops (think vintage Chanel – maybe one day…le sigh), check out this great list!
Playclothes – Well-curated, truly vintage clothing, arranged by decade. Expect to pay $30-$80 per piece.
Crossroads in Silverlake – Great finds from low to high-end brands. Plenty of LA-based designer samples end up here.
Hutch – A tiny, hidden gem vintage clothing and furniture shop; unique items that are reasonably priced
American Way Burbank – Clothing and furniture. Everything here is true thrift store pricing, which means hit or miss, but if you're willing to search, you could find true vintage items for under $10 bucks.
Melrose Trading Post – A boho lover's bazaar every Sunday. You'll find used/vintage clothing, along with upcycled/used furniture, art, music, and some weird stuff you never knew you needed.
American Vintage in Echo Park – My husband geeks out over their vintage menswear. He's found Redwings and an official military-issued peacoat.
Jet Rag $1 Sundays – I've yet to brave this event, but I've heard good things about it from others. Be ready to dig through piles and piles of clothing for one or two gems, but at a price you can't argue.
Need something new?
These are some of my favorite sustainable clothing brands! The following meet some or all of the these criteria: Made in U.S.A or if made internationally, transparent about how clothes are made and textile origins; partnerships with local artisans are fair and sustainable. Eco friendly textiles: uses renewable materials, eco-friendly dyes and treatments or reuse/recycling existing materials into their pieces.
Nisolo Shoes – men's and women's shoes
Zady – chic, timeless women's basics
Gustin Denim – men's selvedge and raw denim
Alchemy Goods – upcycled bags and totes
Raleigh Denim – men's selvedge and raw denim
Nudie Jeans – men's selvedge and recycled denim
Raven & Lily – women's clothing and accessories with a global vibe
Reformation – on trend women's apparel
Alternative Apparel – athleisure basics
Della – bags and accessories
Baggu – bags & accessories
Ethica – collection of clothing, shoes and accessories from sustainable brands
Le Souque – accessories and home decor from indie eco designers
Naja – gorgeous lingerie
Veja – ethical athletic shoes for women, men and kids
PACT Apparel– women's, men's and kid's basic undies and intimates
Mayamiko – on-trend, fun apparel
I try my best to purchase new clothing from ethical brands like these, but sometimes it's just not possible because of fit or cost. For instance, I buy a lot of my basics from Madewell which is owned by J.Crew which isn't the worst as far as social responsibility, but it could do more. However, their denim and shoes are great quality and fit my body really well; they are timeless and I have pieces that still look great after five years of wear. Just like green beauty, no need to panic and throw out everything. Just try your best to make small changes; believe me, they do matter!
I hope these tips and lists have been helpful. Any other tips I've missed? Share! I'm always on the hunt for more shops and ethical brands to support.